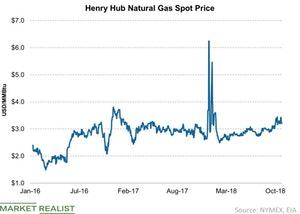 Natural Gas Prices Were Favorable for Nitrogen Producers
Natural gas prices
In the week ending November 2, the natural gas prices in most of the locations in the United States declined week-over-week due to warmer weather. Warmer weather reduced the need for heating, which is supplied by natural gas. Let's look at how natural gas prices performed at the key Henry Hub location in the United States.
Article continues below advertisement
Weekly movements
For the week ending November 2, the natural gas prices at Henry Hub declined to $3.29 per MMBtu (million British thermal units) from $3.36 per MMBtu. The natural gas prices remained above the $3 per MMBtu level, which was higher than the EIA's (U.S. Energy Information Administration) average forecast of $2.99 for 2018. For 2019, the EIA expects natural gas prices to average $3.12 per MMBtu.
CF Industries (CF), in its third-quarter earnings release, stated that global energy fundamentals will likely "support both higher hydrocarbon prices internationally and continued low North American natural gas prices." The developments will likely favor other North American producers (XLB) including Mosaic (MOS), Nutrien (NTR), and CVR Partners (UAN).
As long as the imbalance in energy prices persists, North American producers will enjoy higher margins and better earnings growth compared to peers in regions outside North America.
Next, we'll discuss phosphate fertilizer prices.