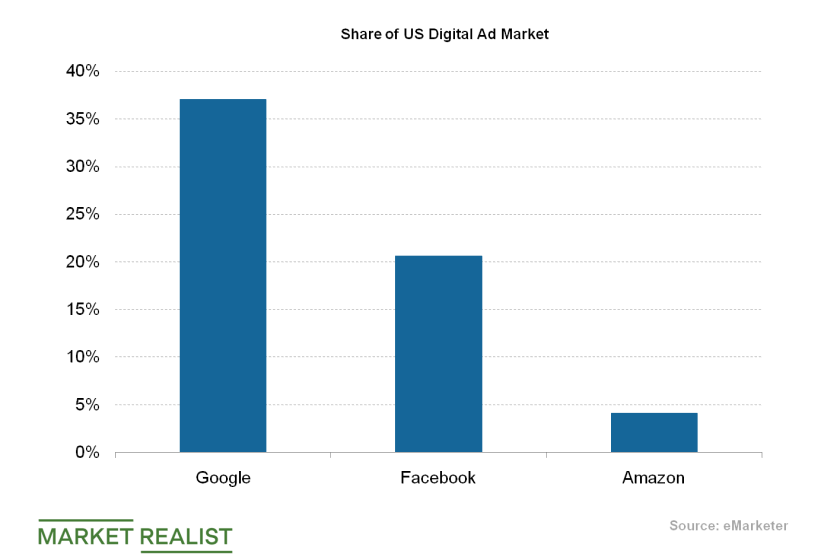 Microsoft's Bing Revenue Growth Is Still Trailing Google's
Bing's revenue rose only 9% compared to Google's 22%
Microsoft's (MSFT) Bing has shown promise time and again, but it's still not able to beat Google's (GOOG) growth in terms of search advertising. In the latest quarter, Bing's revenue rose 9%, while Google's rose 22%. However, the good news is that Microsoft's search ad revenue (excluding traffic acquisition costs) increased at a healthy rate of 17% in the last quarter.
Traffic acquisition costs are the costs paid by Bing or Google to their network members and distribution partners for displaying ads on their platforms.
The fact of the matter is that other players have been finding it difficult to break the duopoly of Google and Facebook (FB) in the digital ad market. According to a report from eMarketer, Amazon (AMZN) will be the distant third-ranked player in the US digital ad space.
The chart above shows that Google will continue to lead in this market with a share of 37% compared to 21% for Facebook and 4% for Amazon.
Article continues below advertisement
Amazon and Snapchat are taking some share away from Google and Facebook
According to another report from eMarketer, although Google and Facebook continue to be the leaders in the US digital ad market, their share could fall from 58.5% in 2017 to 56.8% in 2018. Some of this fall in market share could be due to the gains made by Amazon and Snapchat (SNAP). Snapchat's market share is expected to rise from 0.6% in 2017 to 1.0% in 2018. However, Twitter's (TWTR) market share is expected to fall to 1.0% this year.