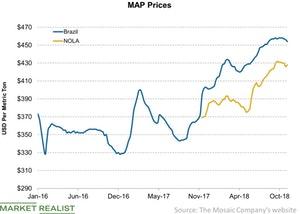 MAP Prices Were Mixed in the Week Ending November 2
By Adam Jones

Updated
MAP prices were mixed
Previously in this series, we discussed how DAP (diammonium phosphate) prices moved in the week ending November 2. The MAP (monoammonium phosphate) prices have also followed a similar trend, which causes concerns for companies (MOO) including Mosaic (MOS), Nutrien (NTR), and Israel Chemicals (ICL).
Weekly movements
The MAP prices in Brazil declined by as much as 44 basis points week-over-week to $454 per metric ton from $456 per metric ton. However, in NOLA (New Orleans), the prices increased by 47 basis points week-over-week to $428 per metric ton from $426 per metric ton a week ago.
YoY (year-over-year), the MAP prices have remained strong. The prices in Brazil rose as much as 23.7% YoY from 367 per metric ton. In NOLA, the prices rose as much as 24.8% YoY from $343 per metric ton.
The strength in MAP prices certainly gives investors some confidence with respect to the state of the phosphate fertilizer business. However, the MAP prices have plateaued, which is something that investors should watch. Lower fertilizer prices mainly impact the revenue growth, which impacts fertilizer companies' earnings growth.
Next, we'll discuss how potash fertilizer prices have been moving.