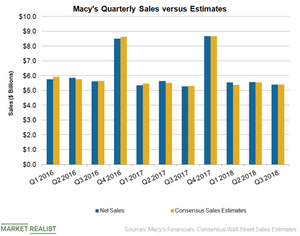 Macy's Growth Initiatives Drove Its Q3 Sales Higher
Improvement in top line
Macy's (M) net sales grew 2.3% on a YoY basis to $5.4 billion, which was in line with analysts' estimate in the third quarter of fiscal 2018, which ended on November 3. Macy's fiscal 2018 net sales growth was quite an improvement compared to the 6.1% sales decline in the third quarter of fiscal 2017. The company's net sales increased by 3.6% in the first quarter of fiscal 2018 but fell 1.1% in the second quarter. Macy's initiatives under its North Star strategic program including investments in online channels have been driving its top-line growth.
Overall, Macy's revenue, which consists of net sales and credit card revenues, grew 3.0% to $5.6 billion in the third quarter. Macy's credit card revenue grew 27.6% to $185 million in the third quarter, reflecting the impact of the company's new loyalty program.
Article continues below advertisement
Strong same-store sales growth
Macy's same-store sales grew 3.1% on an owned basis in the third quarter and by 3.3% on an owned plus licensed basis. The company's merchandise categories that performed well in the third quarter were men's, kids, fine jewelry, women's shoes, fragrances, coats, and active wear. However, fashion watches and women's sportswear delivered lower-than-expected results.
Macy's digital sales continued to grow by double digits in the third quarter. Macy's has been focusing on improving its online infrastructure, expanding its online merchandise, and enhancing the consumer shopping experience.
Revised guidance
Macy's revised the low end of its sales guidance range for fiscal 2018, which ends on February 2, 2019. Macy's now expects its same-store sales (on an owned plus licensed basis) to grow in the 2.3% to 2.5% range compared to the previous guidance of 2.1% to 2.5%. Same-store sales on an owned basis are expected to be about 20 to 30 basis points below the same-store sales growth on an owned plus licensed basis.
Macy's expects its net sales to grow in the 0.3% to 0.7% range in fiscal 2018. The company had earlier expected net sales growth of 0.0% to 0.7%. The next part of this series will look at the company's margins.