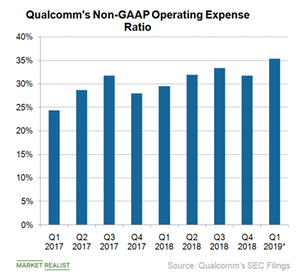 Litigation Costs Drove Qualcomm's Operating Expenses in 2018
Qualcomm's operating expenses
Qualcomm's (QCOM) business model is divided into two segments: the chipset business, which sells cellular chips and processors to smartphone makers, and the licensing business, which licenses its patents to smartphone makers.
The company sells chips and licenses separately, thereby earning more from the same investment. However, the company has been witnessing an increase in its legal expenses due to several ongoing litigations with Apple (AAPL) since January 2017.
Article continues below advertisement
Between the first quarter of fiscal 2017 and the fourth quarter of fiscal 2018, Qualcomm's operating expenses increased from $1.46 billion to $1.84 billion, while its revenue fell from $6.0 billion to $5.8 billion, increasing its operating expense ratio from 24% to 32% during the period. This rise shows the impact of the Apple dispute on Qualcomm.
Qualcomm's fiscal 2018 fourth-quarter GAAP (generally accepted accounting principles) operating expenses also included the $2 billion termination fee it paid to NXP Semiconductors (NXPI) for withdrawing from the acquisition. The company reported a GAAP loss including the impact of this fee during the quarter.
Cost-reduction program
Qualcomm's fiscal 2018 fourth-quarter non-GAAP operating expenses fell 1% sequentially due to its cost reduction program. Under the program, the company pledged to reduce its annual operating expenses by $1 billion to $6.4 billion.
On Qualcomm's fiscal 2018 fourth-quarter earnings call, CFO George Davis stated that the company was on track to achieve $1 billion in savings. He also said that he expects the company to achieve additional savings in litigation costs by resolving its Apple lawsuit.
Changes in R&D spending
Davis stated that Qualcomm would change the reporting of its R&D (research and development) expenses starting in fiscal 2019 due to the commercialization of its 5G (fifth-generation) devices. It will continue to report device development costs in the chipset business. However, it will shift the development costs of the technology—and some of the intellectual property related to the future technology—to licensing, thereby increasing the operating expense of its licensing business by ~$500 million. The shift will not affect the company's overall R&D expenses.
Next, we'll see how these changes in operating expenses could affect Qualcomm's profit margins.