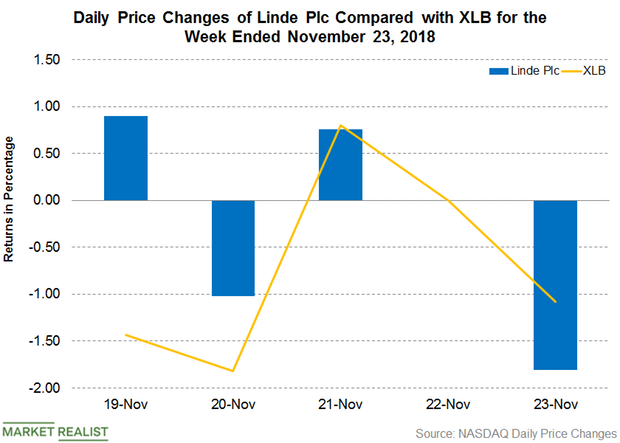 Linde Will Supply Long-Term Industrial Gases to NLMK
Linde signed a new contract
On November 21, Linde (LIN), which merged with Praxair, announced that it signed an agreement with NLMK, an international steel product manufacturer, to supply industrial gases like oxygen, nitrogen, and argon to its Novolipetsk steel site in Russia.
To supply the required gases, Linde will likely invest 100 million euros to build a new air separation unit at the steel plant facility. The new air separation plant is expected to have a capacity of 72,000 cubic meters of gaseous oxygen per hour. The plant is expected to be completed by fourth quarter of 2021.
Article continues below advertisement
Dr. Aldo Belloni, the CEO of Linde AG, said, "We are delighted to have been awarded this significant contract and to continue our strategic partnership with NLMK, a leader in its industry. We will use this opportunity to once again prove our capabilities in building and operating advanced production units that deliver gas reliably, at the right parameters, and in the most efficient way. This, in turn, is going to help our customer achieve even greater productivity levels."
Linde's stock price update
The volatile environment in the stock market caused Linde stock to fall 1.2%. The stock closed at $156.19 for the week ending November 23. Praxair stock got relisted as Linde on October 30. Since then, Praxair stock has fallen 5.0%. However, analysts see more upside in the stock. Analysts have recommended a target price of $172.77, which implies a return potential of 10.6% over its closing price on November 23. Linde's RSI (relative strength index) of 40 indicates that the stock isn't overbought or oversold.
Investors looking to invest in Praxair indirectly could invest in the Materials Select Sector SPDR Fund (XLB), which invests 14.9% of its portfolio in Linde. The fund's other holdings include LyondellBasell (LYB), FMC (FMC), and Albemarle (ALB) with weights of 3.9%, 2.0%, and 1.9%, respectively, as of November 23.