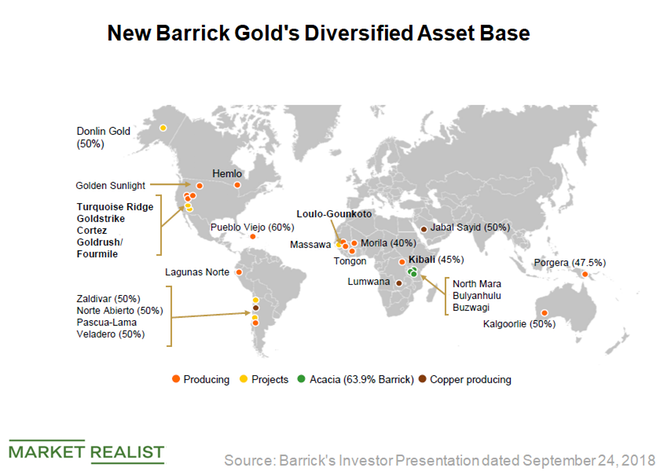 Is the Barrick-Randgold Merger Enough of a Reason to Bet on ABX?
Investors like the ABX-GOLD merger
The rises in Barrick Gold's (ABX) and Randgold Resources' (GOLD) stock prices following their merger announcement suggest that investors are happy with the merger and its potential synergies.
On November 5, more than 99% of ABX's shareholders approved its all-stock acquisition of GOLD. The question, however, remains as to whether the issues ailing Barrick Gold will all go away with this merger. Let's explore this in more detail.
Article continues below advertisement
Increased geopolitical risk
While Barrick's costs will fall and its production profile will improve on low-cost, high-quality assets after the merger, its new position will also add to its geopolitical risk. Most of Randgold's operations are in Africa. Due to African countries' rising resource nationalism and ambition to get more of a share in mining activities, many mining companies are facing difficult times operating in these jurisdictions.
Political problems in these countries could add to Barrick's risks. In addition, market participants worry that the working styles of John Thornton, the merged company's executive chair, and Mark Bristow, the new CEO of the combined company, will clash, which could lead to problems for the company down the line.
Resolution of other issues
Moreover, there are other problems at hand for Barrick, including its ongoing talks with the Tanzanian government regarding the long-running tax dispute between the government and Barrick's subsidiary, Acacia Mining.
Barrick's stock price already seems to be pricing in all the short-term positives from the merger. For further upside, the company will need to show more execution on its projects and resolve its disputes successfully.
Apart from these issues, higher precious metals prices (GLD) (SLV) could surely lift the stock prices of Barrick and other miners (GDX).