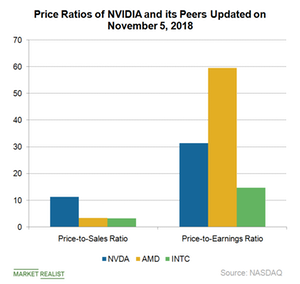 Is NVIDIA Stock's Valuation Attractive to Investors?
By Puja Tayal

Dec. 4 2020, Updated 10:52 a.m. ET
NVIDIA's valuation
NVIDIA (NVDA) and Advanced Micro Devices (AMD) have high ROEs (return on equity) of 52.2% and 43.3%, respectively, as they are delivering higher income on minimal investment. Such efficiency attracts investors. However, investors also consider a stock's value to ensure they buy it cheap, when its future growth isn't already priced in.
A stock's price ratios help us compare its price with its fundamentals, such as earnings, sales, and cash flows, to understand its true valuation.
Article continues below advertisement
Price-to-sales
The PS (price-to-sales) ratio tells us the amount investors are willing to pay per dollar of a company's sales. On November 5, NVIDIA's PS ratio stood at 11.2x, more than three times Intel's (INTC) and AMD's ratios of 3.3x each. Analysts expect NVIDIA's sales to rise 33.6% YoY (year-over-year) in 2018, whereas they expect AMD's and Intel's sales to rise 22.8% and 13.4%, respectively, YoY.
Price-to-earnings
The PE (price-to-earnings) ratio tells us the amount investors are willing to pay per dollar of a company's EPS. NVIDIA stock fell 27% in October after rising 45% between January and September. This lowered NVIDIA's PE ratio from 50.9x on January 31 to 30.9x on November 5. NVIDIA's PE ratio is lower than AMD's PE ratio of 58.5x but higher than Intel's ratio of 14.9x and the industry average of 14.2x.
Wall Street analysts expect NVIDIA's EPS to rise 49.0% YoY in 2018, whereas they expect Intel's EPS to rise 31.0% YoY. AMD has a higher PE ratio, as analysts expect its EPS to rise 171.0% YoY in 2018.
Interpreting price ratios
The above-mentioned ratios show that NVIDIA stock's valuation has corrected but it's still expensive given the industry average. If we look at the growth rate of its fundamentals and the ROE it offers, its valuation seems like a good entry point for investors who want to bet on its long-term growth potential.
NVIDIA is expected to continue to outperform the semiconductor industry given its exposure in fast-growing markets. We'll take a closer look at analysts' views on the stock in the next article.