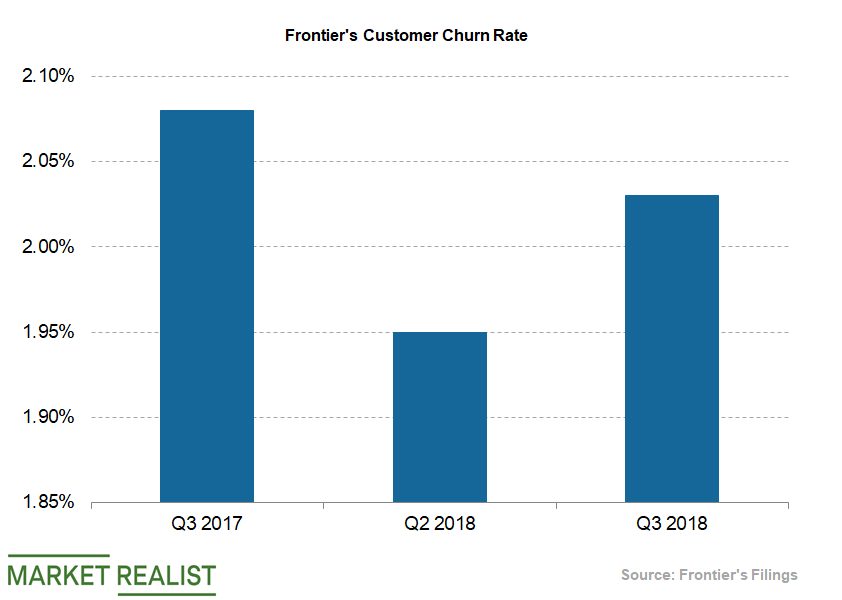 Inside Frontier Communications' Efforts to Keep a Low Churn Rate
Frontier's customer retention rate
Frontier Communications (FTR) has been trying to retain its customers and maintain a lower churn rate in an intensely competitive telecommunications sector. Customer churn is a measure of subscriber losses, and the lower the churn, the better.
Frontier reported a customer churn rate of 2.03% in the third quarter compared to 1.95% in the second quarter. The company's customer churn rate rose sequentially due to seasonality. However, it improved year-over-year from 2.08% in the third quarter of 2017, reflecting the success of the company's churn initiatives in improving the customer experience and retention.
In the third quarter, the churn rate for Frontier Legacy was 1.91%, and the churn rate for Frontier's CTF (California, Texas, Florida) operations was 2.22%. In the previous quarter, the company reported a churn rate of 1.76% for Frontier Legacy and a churn rate of 2.25% for its CTF operations.
Article continues below advertisement