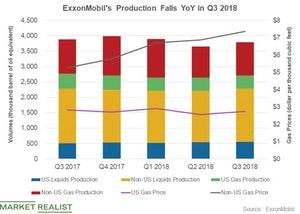 How Was ExxonMobil's Upstream Performance in Q3 2018?
ExxonMobil's Upstream production
ExxonMobil (XOM) produced 3.8 MMboepd (million barrels of oil equivalent per day) from its worldwide operations in the third quarter. The company's total production fell 2.4% YoY (year-over-year) due to divestments, entitlements, and maintenance.
ExxonMobil's peer Royal Dutch Shell's (RDS.A) production stood at 3.6 MMboepd in the third quarter. Chevron's (CVX) and BP's (BP) productions stood at 3.0 MMboepd and 2.5 MMboepd of hydrocarbon production, respectively, in the quarter.
Article continues below advertisement
ExxonMobil's production mix and realizations
Liquids accounted for 2.3 MMboepd (or 60%) of ExxonMobil's total production. The company's liquids production rose 0.3% YoY in the third quarter. The increase in output in the Permian and Bakken regions, the ramp-up at Hebron, and the improvement in Kearl's performance supported liquids growth.
However, its natural gas production fell 6.1%. The fall in its natural gas production was due to a 12.1% YoY fall in the United States led by the company's focus on high-grading its portfolio. Plus, lower demand and divestments further affected its volumes.
Of ExxonMobil's total output, 2.8 MMboepd (or 74%) came from international operations. It's no surprise that a 2.8% YoY fall in non-US liquids and a 3.5% fall in non-US natural gas affected the company's overall volumes.
Moving on to realizations, in the third quarter, ExxonMobil's average oil realizations in the United States rose to $64 per barrel from $45 per barrel in the third quarter of 2017. ExxonMobil's natural gas realizations from its domestic operations made up less than half of its international operations. In the third quarter, average natural gas realizations in the United States stood at $2.8 per kcf (thousand cubic feet), while its realizations in the international arena stood at $7.4 per kcf.
ExxonMobil has a robust Upstream portfolio, with its major projects positioned for long-term growth. Move onto the next article to learn about ExxonMobil's key Upstream assets.