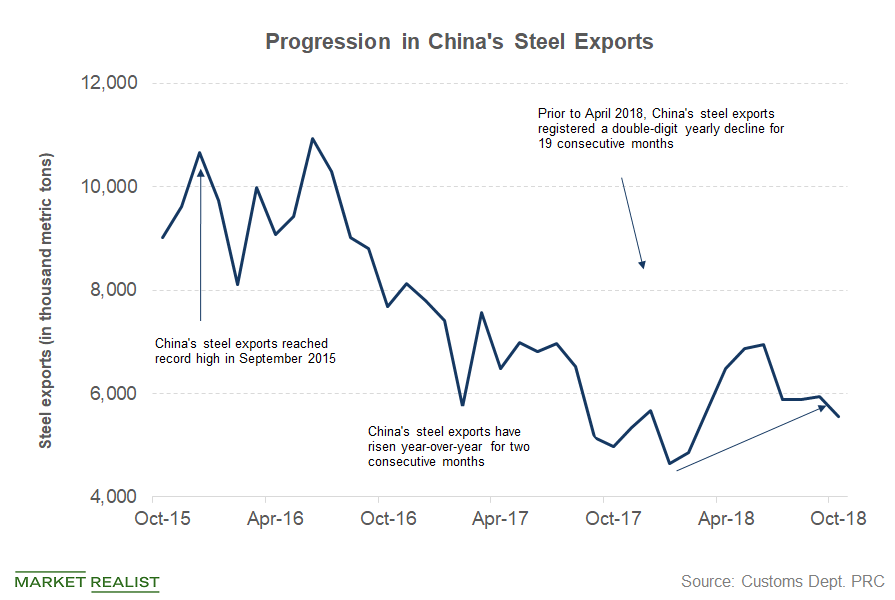 How to Read China's October Steel Exports Data
October steel exports data
China's steel and aluminum overcapacity has received flak from its trading partners. Earlier this year, President Trump imposed tariffs on steel and aluminum imports in a bid to protect US manufacturers (DIA). In this part, we'll discuss China's October steel exports data in light of US tariffs.
Article continues below advertisement
Exports rise
In October, China exported 5.5 million metric tons of steel products—a rise of 11.4% YoY (year-over-year). China's steel exports have risen on a YoY basis for two consecutive months. US steel and iron ore companies like U.S. Steel Corporation (X), AK Steel (AKS), Cleveland-Cliffs (CLF), and Nucor (NUE) see Chinese steel overproduction and exports as a major challenge.
Analysis
The double-digit YoY rise in Chinese steel exports for two consecutive months looks troubling for steel producers. However, we need to consider a few aspects. First, the sharp rise in Chinese steel exports last month came from a lower base. In October 2017, Chinese steel exports were the lowest since February 2014. In absolute levels, Chinese steel exports are lower than their 2015 peak.
In the first ten months of 2018, Chinese steel exports have fallen 9.1%—compared to the same period in 2017. Since several countries have clamped down on Chinese steel exports, it wouldn't be easy for China to export its steel woes. However, we might see a slight uptick in Chinese steel exports. China's domestic demand growth is expected to fall amid tepid demand from end users like the construction and automotive sectors.
Next, we'll discuss China's October aluminum exports data.