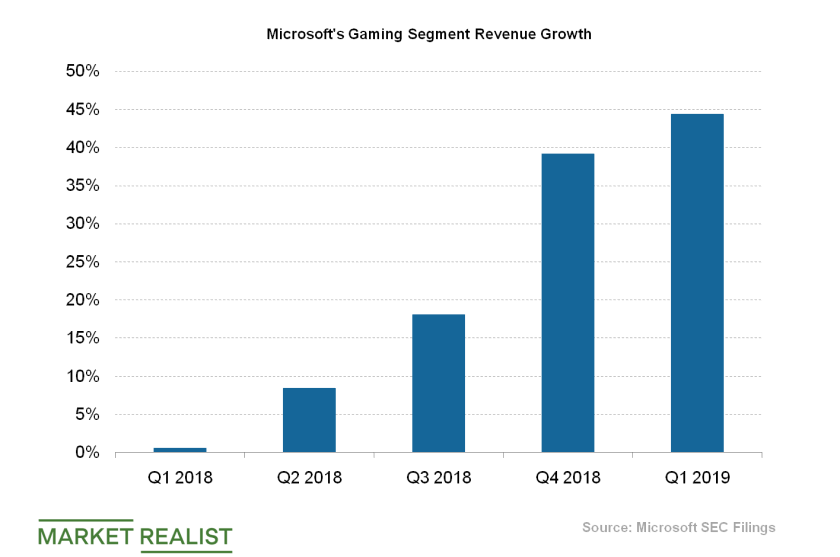 How Microsoft Is Building a Community for Its Gaming Platform
Microsoft's gaming revenue shows accelerated growth
Microsoft (MSFT) has managed to grow its gaming revenue rapidly. In fact, its gaming revenue growth has accelerated over the past few quarters, which is impressive because it's accelerated consistently from 1% in the first quarter of fiscal 2018 to 44% in the first quarter of fiscal 2019. Microsoft credits this growth to the growing engagement of its community of gamers on its Xbox platform.
Microsoft now has 11 game studios to feed its fast-growing subscription-based service, which includes Game Pass for Xbox One gamers. According to Microsoft, the online multiplayer gaming service Xbox Live now has 57 million monthly active users, up 13% YoY (year-over-year). Mixer, a live streaming gaming platform from Microsoft, is another fast-growing service. Microsoft recently announced the launch of Project xCloud, which allows gamers to play games from any device and makes use of Microsoft's Azure cloud service platform.
Article continues below advertisement
Microsoft's acquisition of PlayFab to help game developers
Now let's discuss the actual games that are driving Microsoft's gaming business. Fortnite continues to be the most popular third-party game on the Xbox platform. Other games such as Sea of Thieves are driving gameplay on the Xbox One and services such as Mixer.
Microsoft is also taking the inorganic route to driving growth in its gaming business. A few months ago, it acquired PlayFab, a platform on which developers can develop games with ease. The Walt Disney Company (DIS) and NBCUniversal (CMCSA) are some of the prominent clients of PlayFab, and it currently serves more than 700 million gamers.