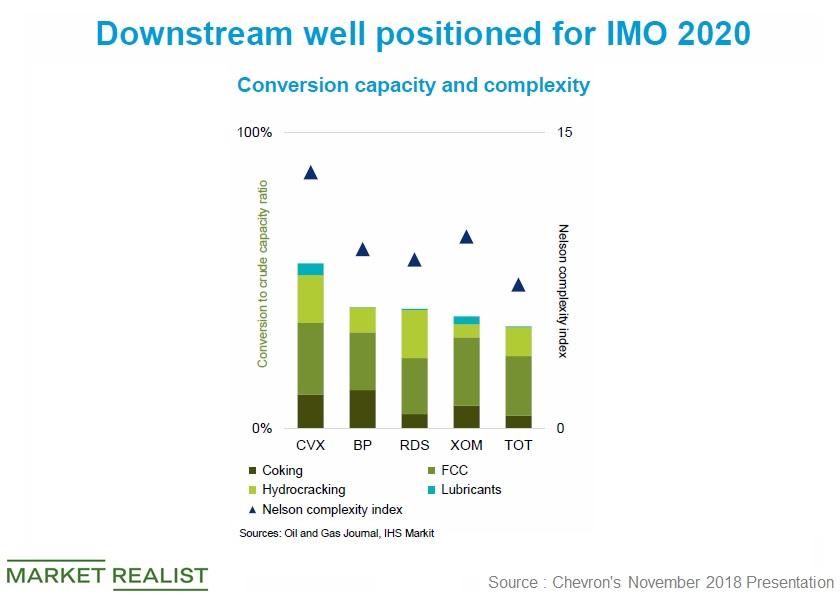 How Is Chevron's Downstream Segment Positioned?
Chevron's vital Downstream portfolio
Chevron's (CVX) Downstream segment is critical to its integrated growth model. The segment is prepared to face the future with its current asset configuration and ongoing projects. Let's take a closer look.
Article continues below advertisement
Chevron ready to face IMO 2020
Chevron is all set to benefit from IMO (International Maritime Organization) 2020. Starting on January 1, 2020, IMO will restrict sulfur content in marine fuel to 0.5%. The demand for low-sulfur fuel is expected to rise after the implementation of IMO 2020, which is expected to boost distillate margins for complex refiners.
Chevron's refiners have some of the highest levels of complexity. Its refineries yield ~40% mid-distillates and 5% fuel oil. Chevron's refineries use a high proportion of heavy sour crude, which is cheaper to procure, further supporting its margins.
Chevron seems like it will be well positioned to serve the demand in the marine industry after IMO 2020, as it's been modernizing and upgrading its refineries consistently to keep up with the latest norms.
Chevron's major refining projects
Chevron also has projects under construction in the Downstream segment, including projects for modernizing and upgrading the existing facilities at its Richmond refinery. This project is expected to complete in the fourth quarter. Also, the alkylation project at its Salt Lake refinery is under construction. These projects are aimed at increasing feedstock flexibility and increasing the production of higher-value, lighter products, ultimately aiming at better margins.
Chevron's petrochemical growth
Chevron is standing firm in the petrochemical industry with the startup of its mega-petrochemical complex in the US Gulf Coast. The project's ethylene plant is now running at its full capacity. The project was started by CPChem (Chevron Phillips Chemical Company), a joint venture between Chevron and Phillips 66 (PSX). Now, CPChem is evaluating the setup of another petrochemical complex in the US Gulf Coast, as the area provides long-term access to advantaged feedstocks and ethane.
Overall, Chevron seems to be well positioned to take advantage of IMO 2020. Going forward, the company's growth activities could increase its capacity and improve its margins, strengthening its Downstream segment.