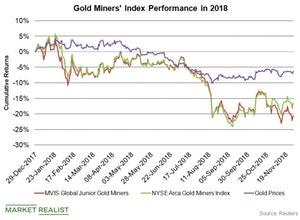 How Gold Mining Exposure Can Hedge Your Portfolio
By VanEck

Nov. 30 2018, Updated 11:50 a.m. ET
VanEck
MORRIS: Well, that's very exciting. And I, again, I am a fan of gold as a defensive holding for investors. Because there isn't really a good hedge. And it sounds to me like if you are worried about financial conditions, or if financial conditions start to tighten, gold mining exposure is a great way to have some hedges in your portfolio.
FOSTER: We're at the point in the cycle I think investors should think of some defensive measures. And gold should be part of that mix, for sure.
Article continues below advertisement
MORRIS: One other thing I wanted to talk to you about today, is that there's been some recent merger activity, and I remember hearing that you'd actually looked at the recent developments as pretty positive overall, for the industry, and could be another positive catalyst for gold miners. At least maybe start to drive their valuations higher.
FOSTER: It goes back to the theme that these gold miners have reworked the way they run their business. The announced merger between Randgold1 and Barrick2, is an example of that. It's a deal done as a merger of equals. There are no premiums involved. Historically, we've never seen a deal of this magnitude done without a premium. Usually when a premium is announced, you have speculators coming in and shorting the stocks, and entering the market, and distorting the fundamentals of the market.
That can't happen in a merger of equal, like we've seen here. And as a result, instead of the acquirer's stock going down the day the merger was announced, Barrick and Randgold both advanced after the merger was announced. And we've seen that both stocks advanced since then. So, I hope this is a development that we see more of: keeping the speculators out of these M& A deals and allowing these deals to stand on their own fundamentals.
MORRIS: Interesting. So, the combination of the two companies is really going to work for investors. And so, you're pleased with the way it was structured.
FOSTER: Yes. I think this brings in Randgold's management, which will now be joining Barrick, and it will get a more dynamic, entrepreneurial management, managing the largest gold company in the world. And we'll see what that brings us.
MORRIS: That sounds great. I'm very excited about the outlook. And it's great to hear your thoughts on it today. Joe, thank you very much.
FOSTER: Sure. Thank you.
MORRIS: Yes.
MORRIS: Thank you very much for joining us today for our discussion on gold and gold miners. For more information, please visit our website vaneck.com.
Article continues below advertisement
Market Realist
Gold mining industry's changing trends
The gold mining industry hasn't seen a very positive trend in the last ten years. The mining industry has adopted innovative techniques and is pursuing more merger and acquisition activity to generate higher shareholder value. The chart below by Deloitte states the various trends that could shape the mining industry in the coming years. In a 2018 research paper entitled "Tracking Trends," Deloitte has discussed how the mining industry has managed to strengthen balance sheets and reduce debt by implementing capital discipline. This trend has resulted in generating free cash flow and better shareholder returns.
An example of the strategies that the gold mining industry is implementing is Barrick Gold (ABX) and Goldcorp's 50-50 joint venture for the development of gold mines in the Maricunga Belt in Chile last year. An example this year is the merger between Barrick and Randgold. Barrick Gold announced it would merge with Randgold, an Africa-focused gold mining company, in a deal valued at $6.5 billion. The merger will form a new company.
A Forbes article in September mentioned that the new company is expected to have adjusted EBITDA of $4.7 billion and an adjusted EBITDA margin of 48%. The new company is projected to have a strong balance sheet and a strong management team that has a proven record of generating higher shareholder returns.
The stock market always carries some amount of risk, and any slight tensions could trigger a sell-off and could lead to market distress. Geopolitical tensions in the coming year could also add to the worries. In situations like this, exposure to gold and gold mining companies could help investors hedge their portfolio.
Nevertheless, since all investments carry some amount of risk, investors need to be cautious before making any investment decisions about gold (GLD) (GDX) (GDXJ).