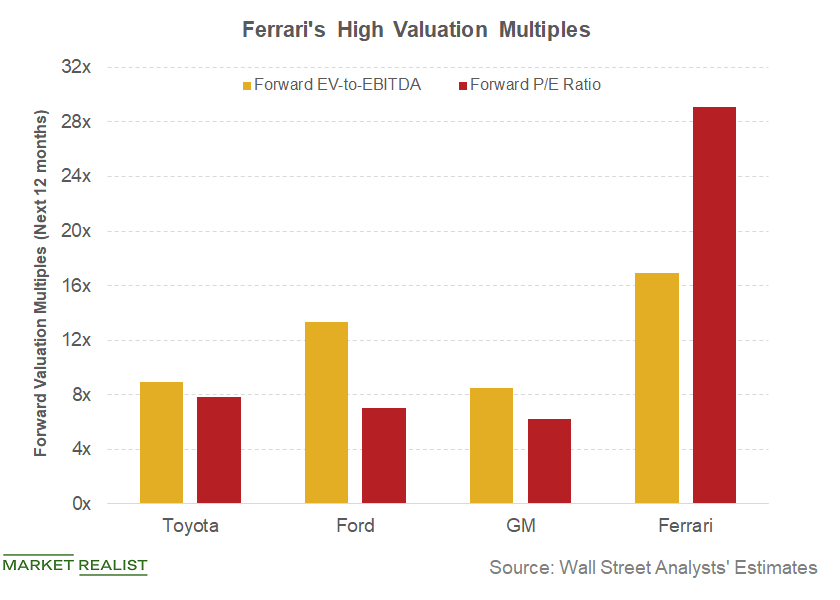 How Ferrari's Valuation Multiples Look at the Start of Q4
Ferrari's EV-to-EBITDA multiple
As of November 5, Ferrari's (RACE) forward EV-to-EBITDA multiple was 16.9x. This multiple was calculated based on the company's estimated EBITDA for the next 12 months. This multiple was higher at 20.2x about six months ago.
Article continues below advertisement
Peer comparison
Ferrari's EV-to-EBITDA multiple was significantly higher than that of other auto companies (XLY) like General Motors (GM), Ford (F), and Toyota (TM). GM's, Ford's, and Toyota's EV-to-EBITDA multiples were at 8.5x, 13.3x, and 8.9x, respectively.
Likewise, Ferrari's forward PE multiple was 29.1x, which was also much higher than other legacy automakers. These high multiples could be because Ferrari's business model is much more profitable with a lower risk profile than those of other auto giants. Luxury cars tend to have much higher profit margins than mass-market vehicles.
Factors to watch in Q4 2018
In the first half of 2018, Ferrari continued to revive V12 engine car sales with the help of newly launched attractive car models. The solid performance of the company's V12 engine car sales and an increase in overall sales volume boosted its profit margins in the first two quarters. However, the contribution of its V12 engine cars in its total shipments dropped in the third quarter, which could affect its 2018 profitability if continued in the fourth quarter. This negative trend or stagnation in profitability could hurt Ferrari's future earnings growth estimates and drive its valuation multiples lower.
Continue to the final part where we'll explore what Wall Street analysts are recommending for Ferrari's stock after its third-quarter earnings event.