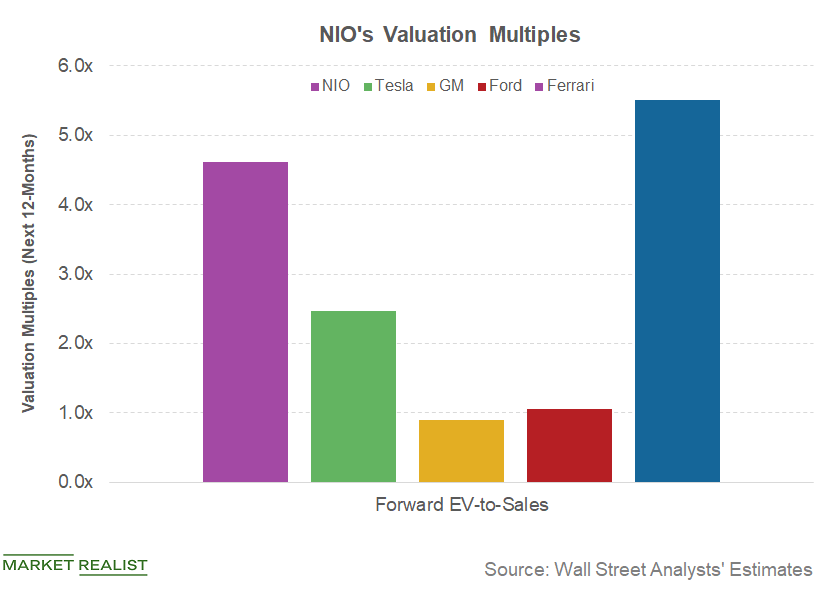 How Do NIO's Valuation Multiples Look in Q4 2018?
NIO's price-to-book multiple
As of November 6, NIO's (NIO) forward price-to-book multiple was 38.9x. This multiple was calculated based on the company's estimated book value for the next 12 months. At the same time, Tesla's (TSLA) forward price-to-book multiple was much lower at 9.4x. Alibaba (BABA) and Baidu (BIDU), other Chinese companies, had forward price-to-book ratios of 4.9x and 2.6x, respectively.
Article continues below advertisement
EV-to-sales multiples
NIO's forward EV-to-sales (enterprise value to sales) multiple was 4.4x, higher than Tesla's 2.4x. However, it's important to note that NIO shouldn't be valued using the same metrics as the majority of auto companies (XLY) due to differences in their business models and sizes.
In the auto industry (XLY), Italian luxury carmaker Ferrari (RACE) has much higher valuation multiples than other mainstream automakers. On November 6, Ferrari's forward EV-to-sales multiple was 5.5x. Ferrari tends to have higher valuations than its peers because its business model is much more profitable with a relatively low-risk profile than those of other auto giants. In addition, luxury cars tend to have much higher profit margins for auto companies than other mass-market vehicles.
Factors to watch in Q4 2018
NIO was founded in 2014, much later than other automakers such as General Motors (GM), Ford (F), and Tesla (TSLA). This is the reason why NIO's valuation might remain sensitive to growth factors rather than risk factors at the moment.
The company's consistent strong revenue, vehicle production, and delivery growth along with strong demand for its vehicles could boost its future earnings estimates and drive its valuation multiples upward.
Nonetheless, we must note that NIO doesn't have a proven track record of positive earnings so far, which is why its valuation multiples could remain highly sensitive to its future outlook and plans in the near to medium term.
Read on to the final part where we'll explore what Wall Street analysts are recommending for NIO stock after its third-quarter earnings event.