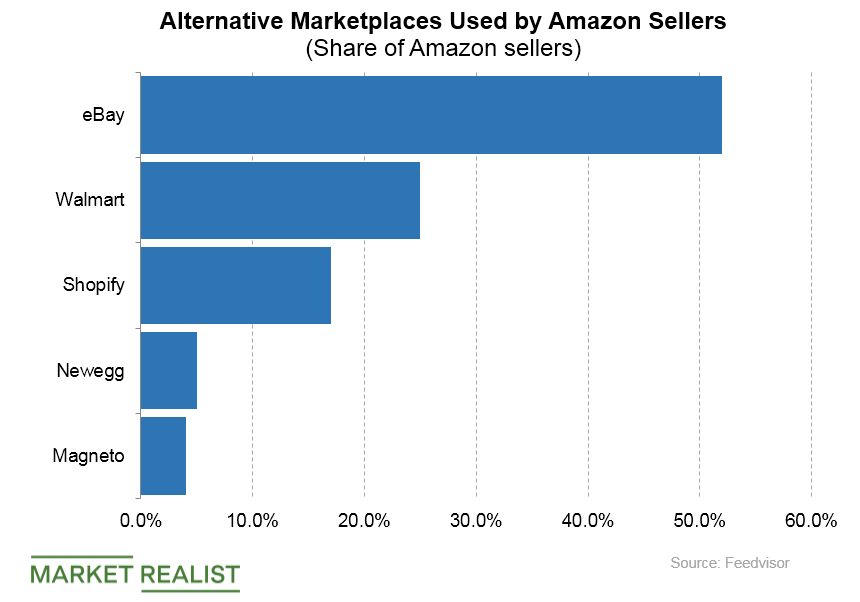 How Amazon Could Kill Two Birds with One Stone This Holiday
Boosting customer confidence
The building of a team of thousands of drivers to help with holiday deliveries could see Amazon (AMZN) kill two birds with one stone. Speed is reshaping retail competition globally, which is why Walmart (WMT) has explored utilizing its store staff to deliver online orders to customers' doors after completing their shifts. It's also why Chinese e-commerce companies Alibaba (BABA) and JD.com (JD) are keen on using drones to deliver packages to customers.
Article continues below advertisement
The delivery army that Amazon is working to put together could help the company cut the time it takes to fulfill orders this holiday season. Faster deliveries could not only lead to more sales but also boost the confidence of shoppers and merchants in Amazon's service, helping it fend off the competition.
Competition for merchant clients
The likes of Walmart, eBay (EBAY), and Shopify (SHOP) are competing with Amazon not only for shoppers but also for merchants. According to a Feedvisor report, as many as 52% of Amazon marketplace sellers have listings on eBay, and as many as 25% have listings on Walmart's online marketplaces. Shopify hosts ~17% of Amazon sellers.
Avoiding costly compensation
The other potential benefit of a holiday delivery team is that it could help Amazon reduce its costs. Firstly, Amazon's utilizing more of its in-house resources for deliveries means it will rely less on third-party couriers.
Secondly, delivery delays a few years ago resulted in some Christmas orders arriving late, sparking rage and resulting in Amazon compensating the affected customers in an attempt to appease them. Putting systems in place to ensure that orders reach their destinations in time could see Amazon avoid such a costly remedy.