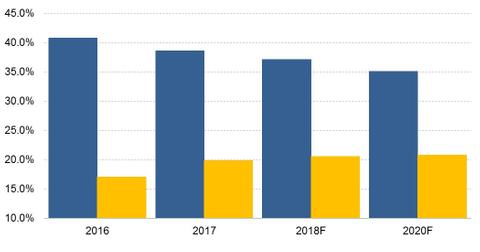 How Alphabet Tweaked Loon's Strategy
By Neha Gupta

Updated
Speeding up commercialization
Alphabet's (GOOGL) Loon subsidiary is embarking on commercializing its balloon-based Internet technology using a tweaked strategy. Instead of covering the globe with its large balloons capable of beaming high-speed Internet to users on the ground, Loon has changed its strategy to deploy a small number of balloons to cover specific regions, Bloomberg reports. Loon's new strategy is designed to help speed up the commercialization of balloon-based Internet technology.
Article continues below advertisement
Bridging digital divide
In Africa, Loon has teamed up with Kenyan telecom operator Telkom to take Internet connectivity to pockets of the country. Loon will start by deploying around a dozen balloons in Kenya through its partnership with Telkom, which could see Loon cover ~10% of Kenya. Loon expects to start making money from its partnership with Telkom next year.
Other African, Latin American, and Asian countries have also shown interest in Loon's balloon-based Internet technology, suggesting strong demand for the technology in the race to bridge the digital divide.
Growing market for Google
The technology that Loon is setting out to monetize has been in the works for about six years. In addition to generating direct revenue for Alphabet, Loon's Internet technology could also expand the market for its sibling, Google, allowing it to reach more people with its digital services and make more advertising sales.
Google is in a tight race with Facebook (FB) and others for advertising dollars. In the United States, Google's share of the digital advertising market is forecast to sink to 35.1% by 2020 from 37.1% this year. In contrast, Facebook's market share is poised to grow to 20.8% by 2020 from 20.6%, and Amazon's (AMZN) share is expected to increase to 7.0% from 4.1%. Microsoft (MSFT) and Verizon's (VZ) Oath subsidiary are forecast to capture ~4.0% and ~3.0% of the US digital advertising market this year.