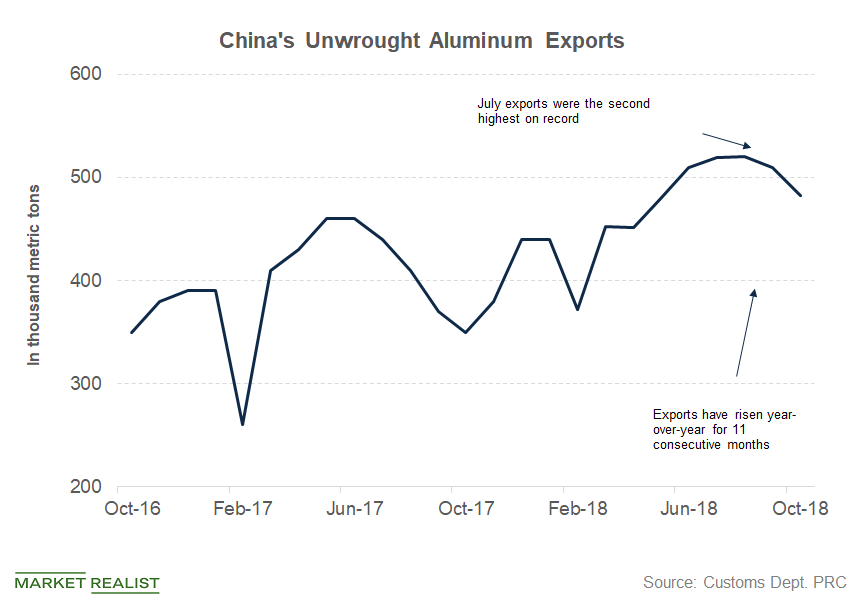 Has President Trump Changed China's Trade Practices?
President Trump
China has been accused of unfair trade policies. In addition to President Trump, other regions have found fault with China's trade practices. The European Union and India have blamed China for unfair trade practices.
Article continues below advertisement
Massive overcapacity
Pressure has been building on China to open up its economy for foreign companies. The country has also received flak in global forums for its industrial overcapacity. For instance, China's steel overcapacity was mentioned at the G20 meeting. China has closed some of its steel overcapacity after several countries blamed its burgeoning steel exports for depressing global steel prices and leading to distress in steel industries. Companies like U.S. Steel Corporation (X), AK Steel, and Cleveland-Cliffs (CLF) bore the brunt. Record Chinese steel exports led to a crisis in the steel industry in 2015.
China's aluminum overcapacity was also discussed in this year's G7 meeting. Although China previously said that it would address its aluminum overcapacity, the country's aluminum exports portray a different picture. China's aluminum exports have risen to record levels this year.
Import expo
China, which is generally known for its export fairs, organized its first import expo this month. Although there wasn't any real sense of optimism from foreign governments, an event to showcase China's import potential was a welcome move. China has also lowered the import duties on several products including automotive. However, US companies (SPY) like Ford (F) and Tesla (TSLA) pay a higher tariff on the cars they ship to China. China imposed tariffs on US goods in response to US tariffs.
While there have been incremental changes in China's trade practices, President Trump is seeking more radical changes. Next, we'll discuss the US-China trade war in more detail.