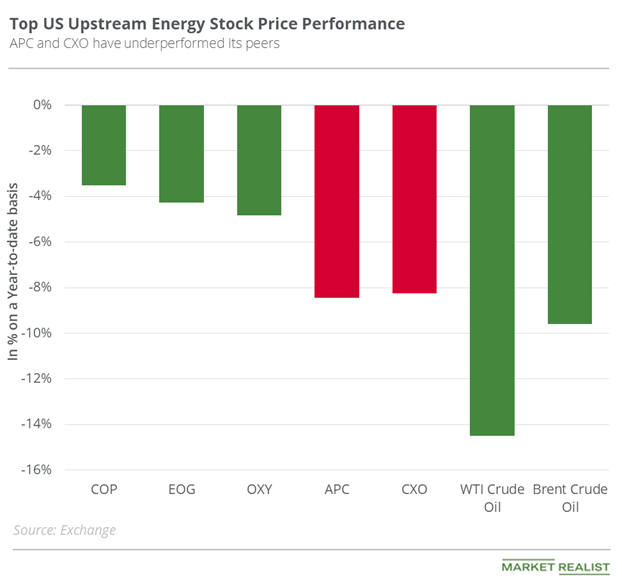 Goldman Sachs: Trump's Love for Cheap Oil Could Cost Oil Drillers
Goldman Sachs' take
Jeff Currie, Goldman Sachs' (GS) commodities' head, told CNBC that oil's fall to $50 will hurt US oil producers. However, US President Donald Trump appreciated oil's fall in recent tweets. On November 26, US crude oil active futures rose 2.4% from their lowest closing price of $50.42 per barrel in 2018.
Article continues below advertisement
Are top US upstream companies ready for oil's plunge to $50?
According to ConocoPhillips's (COP) management, the company requires sustaining capital of $3.5 billion a year in case of flat production between 2018 and 2020. This funding is easily achievable from its cash flow from operations even if oil is at $40 per barrel. Our list of the top five upstream stocks is based on the S&P 500 Index's (SPY) largest upstream energy sector holdings.
EOG Resources (EOG) could have a positive free cash flow even after paying dividends and capital expenditure with WTI crude oil at $50—based on management's guidance. However, Anadarko Petroleum (APC) might face trouble with prevailing oil prices. APC management expects to generate significant cash in 2019 with WTI crude oil at $60 per barrel, Brent crude oil at $70 per barrel, and natural gas at $3 per MMBtu. The condition might worsen for APC in 2019 with a further fall in oil prices as oil sales contribute ~70% to its total revenue, based on the Q3 2018 results.
Occidental Petroleum (OXY) is confident that it will continue to pay dividends and maintain the production status quo even with WTI crude oil at $40.
CXO might be in trouble if oil plunges below $50
If WTI crude oil plunges below $50, Concho Resources (CXO) might be in trouble. In the last year, CXO generated net cash from operating activities of $2.7 billion. However, CXO has an estimated capital program above $3 billion for 2019. Moreover, unlike other oil producers in our list, CXO's operations are totally based in the Permian Basin, where it's exposed to the price differential risk of WTI Midland versus WTI Cushing.
Even at the current production mix and assuming that oil production remains constant for 2019, CXO has hedged 59.6% of its oil production through oil price swaps and ~7% by using oil's costless collar. CXO's oil price swaps average hedging price for 2019 is $56.4 per barrel. The costless collar bears average ceiling and floor prices of $63.83 and $55.96 per barrel, respectively.