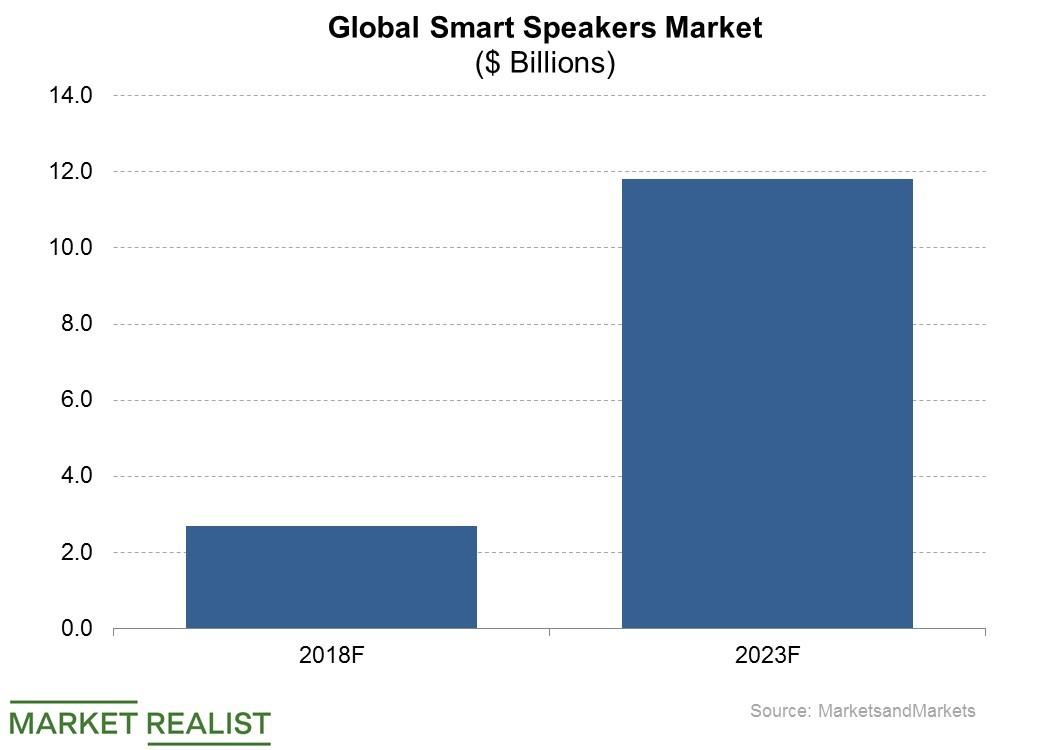 Facebook Opens Brand New Revenue Stream
Potential boost to non-advertising business
Facebook's (FB) Portal device went on sale earlier this month, opening a new revenue stream for the company. The Portal expands Facebook's non-advertising business, which already consists of the sale of virtual reality headsets and the Workplace corporate networking service. Facebook's non-advertising revenue increased only 1.0% year-over-year to $188 million in the third quarter, suggesting the business needs a boost. Portal may just be the needed boost.
Article continues below advertisement
With Portal, Facebook has joined the race for the commercial opportunity in the nascent but promising smart speaker market. Globally, households are expected to spend $2.7 billion on smart speaker device purchases in 2018, according to MarketsandMarkets. By the end of 2023, the global smart speaker market is expected to have grown to $11.8 billion.
Diversifying the business
Capturing a piece of the smart speaker market could make a huge difference for Facebook. The company currently relies on advertising for almost all its revenue. However, the digital advertising market is becoming more competitive, raising the need for mostly ad-funded companies like Facebook to try to diversify their operations so as to minimize their risks.
Advertising accounted for 98.5% of total revenue at Facebook in the third quarter compared to 86.1% for Alphabet (GOOGL) and 85.8% for Twitter (TWTR). At Baidu (BIDU), advertising accounted for 82% of revenue in the third quarter.
Portal starts at $199
The Facebook Portal device is available in two versions as Portal and Portal Plus, costing $199 and $349, respectively. The device is competing for market share with Google Home Hub and Amazon's (AMZN) Echo Show, which cost $149 and $230, respectively.