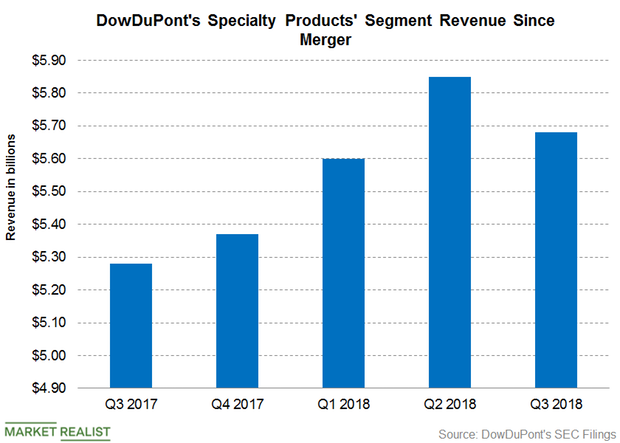 DowDuPont's Specialty Products Segment EBITDA Rose in Q3
Specialty Products segment's performance in Q3 2018
DowDuPont's (DWDP) Specialty Products segment accounted for 28.2% of DWDP's total revenues, a decrease of 0.6 percentage points on a year-over-year basis. The segment reported revenue of $5.68 billion as compared to $5.27 billion in Q3 2017. The reported revenue implies growth of 7.8% on a year-over-year basis.
The segment's revenue growth was driven by higher volumes, which grew 3%, and positive pricing pushed the segment's revenue by 2%, while the portfolio mix pushed the segment's revenue growth by 3%. The segment has four businesses, and all of them recorded revenue growth with the exception of Electronics and Imaging, which remained flat. Below are the highlights of each business:
Article continues below advertisement
The electronics and imaging business revenue remained flat and reported net sales of ~$1.95 billion. The segment reported growth in semis and displays. However, the photovoltaics business continued to decline.
The nutrition and biosciences business revenue grew by 14.5% over the previous year primarily due to volume growth in its nutrition and health business, probiotics, and specialty proteins. Further, the growth was seen in the CleanTech and bioactives businesses as well, but there was a decline in microbial control and biomaterials.
The transportation and advanced polymers business reported revenues of $1.41 billion, an 8.4% increase over its pro forma Q3 2017 revenues. The revenue growth was driven by higher volume gains in the auto, electronics, and aerospace business. The engineers' polymers business also grew, influenced by the favorable product price increase.
The safety and construction business reported revenues of $1.40 billion, an increase of 7.0% over the previous year. The growth was driven by broad-based demand in end markets of industrial, life and personal protection, and medical packaging. However, the construction business witnessed some weakness and had an adverse impact on business.
Segment's EBITDA margins
DowDuPont's Specialty Products segment's EBITDA from all four businesses combined stood at ~$1.64 billion, an increase of 17.4% on a year-over-year basis. The segment's EBITDA margin expanded by 235 basis points to reflect an EBITDA margin of 28.9% in Q3 2018. The increases in its EBITDA and EBITDA margins were primarily due to higher volumes, lower pension costs, and cost synergies.
Investors can indirectly hold DowDuPont by investing in the Guggenheim S&P 500 Equal Weight Materials ETF (RTM), which invests 4.1% of its portfolio in DowDuPont. The other holdings of the fund include Albemarle (ALB), International Flavors and Fragrances (IFF), and PPG Industries (PPG), which had weights of 5.8%, 5.2%, and 4.7%, respectively, on November 5.