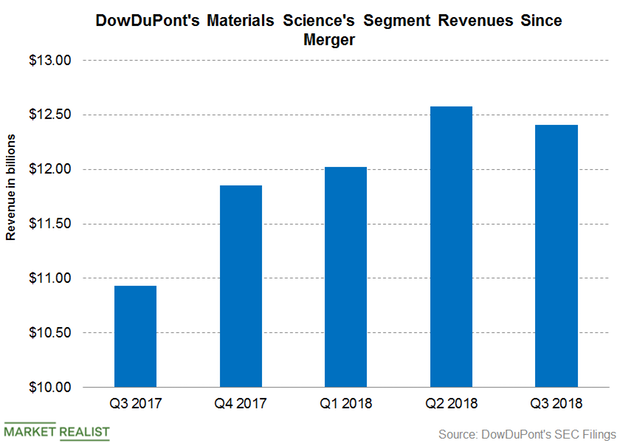 DowDuPont's Material Science Revenues Rose in Q3
Materials Science segment in Q3 2018
DowDuPont's (DWDP) Material Science segment, which is slated to be spun off and called Dow by the end of Q1 2019, accounted for 61.7% of DWDP's total revenues in Q3 2018. In Q3 2017, this segment accounted for 59.9% of DWDP's total revenue, a year-over-year increase of 1.8 percentage points.
This segment reported revenue of $12.42 billion in Q3 2018, an increase of 13.5% on a year-over-year basis. In Q3 2017, this segment reported revenues of $10.94 billion on a pro forma basis.
Article continues below advertisement
The Materials Science segment revenue increase was primarily driven by double-digit growth across all the businesses under this segment. The Industrial Intermediates & Infrastructure segment led with growth of 18% followed by the Performance Materials & Coatings segment and the Packaging & Specialty business, which both recorded revenue growth of 11% each.
Overall, the segment's revenue growth was supported by 6.0% growth in volumes, while price increases boosted the segment revenues by 7.0%.
Segment's EBITDA and margin
The Material Science segment's EBITDA from all three businesses combined totaled ~$2.47 billion, an 8.3% increase on a year-over-year basis. The increase in EBITDA was primarily due to higher volumes, higher pricing, and synergy impacts. However, the segment reported an EBITDA margin of 19.9%, down from 20.9% in Q3 2017, which implies a margin contraction of 100 basis points on a year-over-year basis. The decline in margin was primarily because of higher feedstock cost, and the EBITDA growth was lower than the revenue growth.
Outlook
The segment revenue is expected to grow on higher volumes and higher price realizations. However, the segment's margin could be under pressure on higher input costs and unfavorable foreign currency.
Investors can indirectly hold DowDuPont by investing in the Invesco DWA Basic Materials Momentum ETF (PYZ), which invests 4.1% of its portfolio in DowDuPont. The fund also provides exposure to Chemours (CC), LyondellBasell (LYB), and Eastman Chemical (EMN), which have weights of 5.0%, 4.7%, and 3.7%, respectively, on November 5.