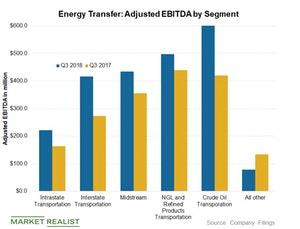 Digging into Energy Transfer's Q3 2018 Earnings
Earnings by segment
Energy Transfer (ET) reported higher earnings in the third quarter from all of its segments. Its biggest segment—Crude Oil Transportation—reported adjusted EBITDA of $682 million, compared to $420 million in the third quarter last year, an increase of 62% YoY (year-over-year). In the first and second quarters, the segment reported EBITDA growth of 148% and 140%, respectively. The segment's earnings increased in the third quarter mainly due to higher throughput volumes, driven by higher production in West Texas. The segment accounts for more than 30% of Energy Transfer's total earnings.
Article continues below advertisement
NGL and Refined Products Transportation
The NGL and Refined Products Transportation segment reported adjusted EBITDA of $498 million in the third quarter of 2018, compared to $439 million in Q3 2017. NGL transportation volumes rose mainly in the Permian region due to higher production. Average fractionated volumes at the company's Mont Belvieu fractionation facility grew mainly due to the commissioning of ET's fifth fractionator in July as well as increased volumes from Permian producers.
Midstream
Energy Transfer's Midstream segment posted EBITDA growth of 22% YoY. Increased natural gas production in the Permian, North Texas, and Northeast regions boosted the segment's performance.
Intrastate Transportation and Storage
Energy Transfer's Intrastate Transportation and Storage segment reported a 36% YoY rise in its EBITDA in Q3 2018, mainly due to increased volumes. The higher volumes were due to the consolidation of Regency Intrastate Gas in April.
The Interstate Transportation and Storage segment's EBITDA grew 52% in the third quarter due to the beginning of services for the Rover, Trunkline, and Tiger pipelines.