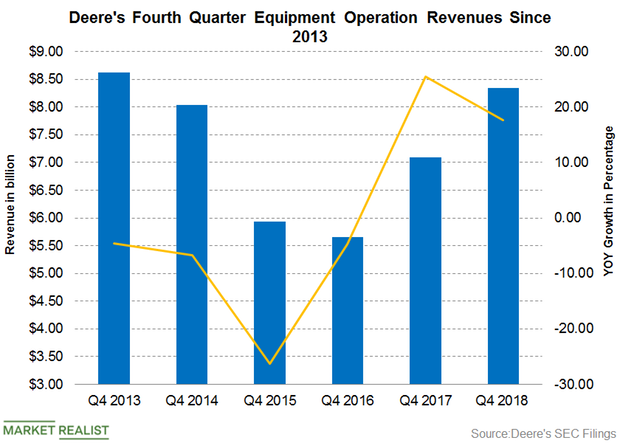 Deere's Q4 2018 Revenues Maintained the Upward Trajectory
Deere's fourth-quarter revenues
In the fourth quarter, Deere (DE) reported total revenues of $9.42 billion, which included financial services and other revenues. The revenues implied a 17.5% rise over the fourth quarter of 2017 when the company reported revenues of $8.02 billion.
Deere's revenues from equipment operations were $8.34 billion for the quarter—compared to $7.09 billion in the fourth quarter of 2017, which is a rise of 17.6% YoY (year-over-year). Deere didn't beat analysts' estimate of $8.57 billion.
Article continues below advertisement
Deere's equipment business growth was mainly driven by its acquisition of Wirtgen Group, which added 11% to Deere's equipment revenues. Higher shipments and favorable pricing also increased Deere's revenues. However, an unfavorable foreign currency exchange had a negative impact of ~3% on the company's revenues. Both of Deere's reporting segments witnessed significant revenue growth.
Geographically, Deere's sales in the United States and Canada rose 21%, while sales outside the United States and Canada rose 13%.
Management's comments
Samuel R. Allen, Deere's chairman and CEO, said, "In the fourth quarter, farm machinery sales in the Americas made further gains while construction-equipment sales continued to move higher, helped in part by our Wirtgen road-building business, whose financial contribution has exceeded our original forecasts. At the same time, the company has continued to face cost pressures for raw materials such as steel, which are being addressed through pricing actions and ongoing cost management."
Outlook
Deere closed fiscal 2018 on a higher note. In fiscal 2019, Deere expects its revenues to grow 7%. However, the unfavorable foreign currency is expected to have a negative impact on Deere's revenues.
Investors could hold Deere indirectly by investing in the Agribusiness ETF (MOO), which has invested 8.2% of its portfolio in Deere. The fund also provides exposure to FMC (FMC), Tractor Supply (TSCO), and AGCO (AGCO) with weights of 2.7%, 3.1%, and 1.2%, respectively, as of November 21.