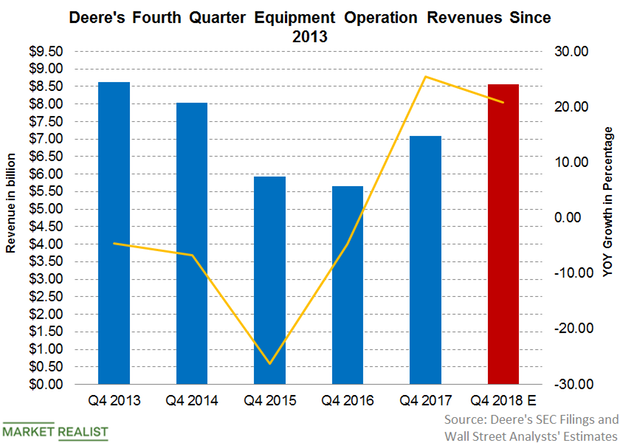 Deere's Q4 2018 Is on Track to Be Best Q4 in Five Years
Deere's expected fourth-quarter revenues
Deere (DE) is expected to report Q4 revenues of $8.57 billion from its equipment operations. The figure doesn't include revenues from financial services. The expected revenues represent 20.8% growth on a year-over-year basis. In the fourth quarter of fiscal 2017, Deere reported revenues of $7.09 billion from equipment operations. If Deere meets the revenue expectations, it would be the highest fourth-quarter revenues since the fourth quarter of fiscal 2013.
Article continues below advertisement
The fourth-quarter revenue growth will likely be primarily driven by acquisition revenue. The acquisition of Wirtgen Group is expected to contribute significantly to Deere's overall revenue growth. In the third quarter, Wirtgen contributed about 17% to Deere's revenue. In the fourth quarter, it's expected that the Wirtgen Group will contribute ~12% of the revenue. Further, in the past one year, Deere has also acquired Blue River Technology, King Agro, and its latest acquisition is PLA. All these acquisitions are expected to improve Deere's revenue growth.
The other things that could drive Deere's revenue are the higher pricing and higher volume shipments. However, Deere could face the challenge of unfavorable foreign currency. In the past six months, the dollar index, which measures the dollar movement against the basket of currencies, has gained ~7.9%. As a result, Deere could have an adverse impact on its revenues.
CNH Industrial (CNHI), Caterpillar (CAT), and FMC (FMC) registered revenue growth of 0.84%, 18.4%, and 60.3%, respectively, in the latest quarterly earnings.
Investors can get exposure to Deere by investing in the iShares MSCI Global Agriculture Producers ETF (VEGI). VEGI has invested 14.0% of its portfolio in Deere as of November 19.