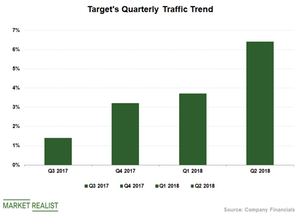 Cowen Upgrades Target Stock on Improving Outlook
TGT stock now rated an 'outperform'
On November 7, Cowen upgraded Target (TGT) stock to an "outperform" from a "market perform" and raised its target price to $100 from $90. The improving macroeconomic backdrop, including lower unemployment and higher wages, is likely to favor retailers this holiday season, and Target remains well positioned to gain from it thanks to its digital initiatives, exclusive brand launches, and value pricing.
Article continues below advertisement
The company has had a strong year so far in 2018. Record comps growth and the solid performance of its bottom line have already driven its stock up ~33% so far this year. Traffic at Target is showing an uptrend on a sequential basis, which is encouraging and indicates that shoppers are responding well to the company's initiatives.
Why could Target be a favorite shopping destination?
Ease of shopping, fast delivery, and value pricing are the key catalysts behind growing traffic at Walmart (WMT), Target, and Costco (COST). However, Target is taking its services one level higher this holiday season with free two-day shipping. Moreover, the company has announced that it will hire 20% more seasonal workers, implying that it's gearing up for one of its busiest holiday seasons yet.
Target has significantly ramped up its e-commerce business, making it one of the most convenient places to shop. The company has significantly expanded its digital fulfillment options, and it offers same-day delivery, grocery pickup services, and delivery through its stores. It has also expanded its Restock program to new markets, leading to a healthy adoption rate.
Besides solidifying its digital business, Target has launched several exclusive Only at Target brands, which remain popular among shoppers and are generating healthy sales. It's stepped up the pace of its store remodels and is opening new small-format stores, as these stores generate higher comps and productivity.
Target's initiatives on the digital, store, and merchandising fronts are expected to make it a go-to for shoppers this holiday season. Following Target's free delivery initiative during the holiday season, Amazon (AMZN) has also announced free shipping to US customers with no minimum order size.