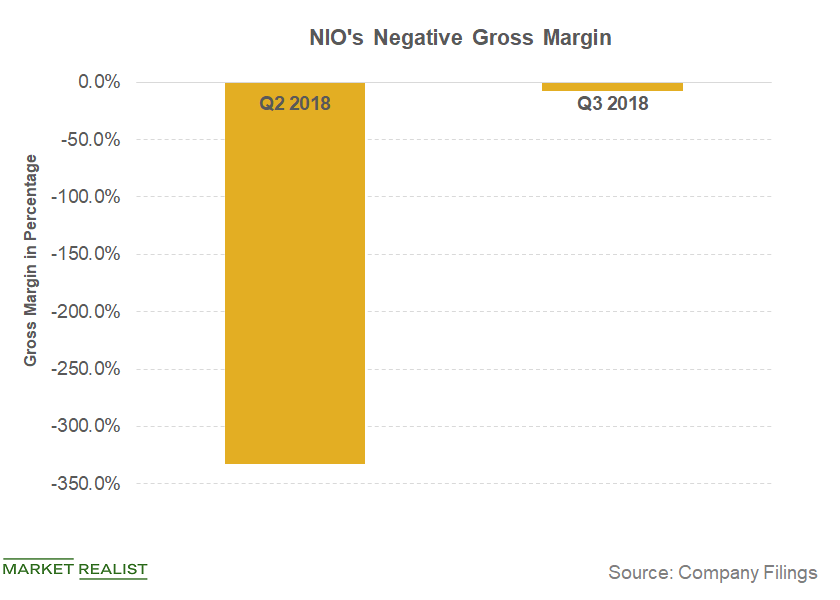 Could NIO's Gross Margin Turn Positive in the Fourth Quarter?
NIO's Q3 2018 earnings
In the previous part of this series, we looked at Chinese electric carmaker NIO's (NIO) third-quarter revenue. The company's future revenue growth is highly dependent on its upcoming car model ES6, which it expects to launch by the end of 2018. Consistent solid demand for ES6 could make NIO's revenue grow faster than Tesla's revenue at its initial stage.
Article continues below advertisement
NIO's Q3 2018 gross margin
In the third quarter, NIO reported a gross loss of about 116 million Chinese yuan, or $16.9 million, as compared to a gross loss of 153 million Chinese yuan in the second quarter. With this loss, the company's third-quarter gross margin was in negative territory at -7.9% as compared to -333.1% in the second quarter.
During its third-quarter earnings conference call, NIO's vice president of finance, Nick Wang, mentioned, "we expect gross margin to turn positive in the quarters ahead and as production and deliveries increase."
In the fourth quarter, NIO expects its vehicle deliveries (XLY) to be between 6,700 and 7,000 units, reflecting deliveries growth of about 105% to 114%. During the call, the company's CFO, Louis Hsieh, added, "if we hit our deliveries at 7,000 this quarter, the vehicle margin should definitely turn positive if we hit the 7,000."
Article continues below advertisement
Key positive factors
As implied by the company's CFO Louis Hsieh, the company's expectation of turning its gross margin to positive depends on its ability to produce and deliver more vehicles in the coming quarters, because high volume production of vehicles tends to divide the manufacturing costs per unit, leading to fixed cost reduction. Moreover, NIO's management also expects to be able to reduce its building and material costs in the coming quarters.
In the third quarter, US electric automaker (XLY) Tesla (TSLA) reported a gross margin of 25.8% from its automotive segment. Tesla's gross margin from its Model 3 turned slightly positive in the second quarter this year when it delivered 18,449 units. Therefore, it will be interesting to see if NIO can turn its gross margin positive by delivering 7,000 vehicles in the fourth quarter.
In the most recent reported quarter, Chinese e-commerce giant Alibaba's (BABA) profit margin was at 46.9%, while Chinese tech giant Baidu (BIDU) reported a gross margin of 49.6%.
Next, we'll discuss why NIO might change its Power Swap strategy going forward.