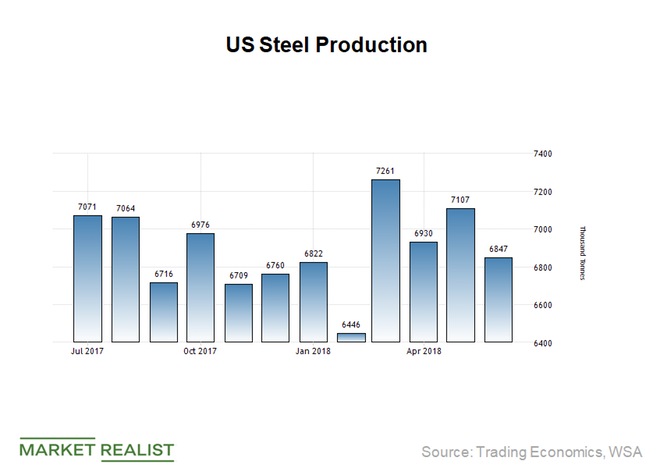 Cleveland Cliffs to Benefit as US Steel Production Is on the Rise
US steel production
In addition to stemming the flow of imports, the steel tariffs were imposed by the United States (SPY) (VTI) with the objective of increasing the capacity utilization of US steel production.
According to data from the World Steel Association, the United States produced 7.25 million tons of steel in September, 3% lower sequentially and 5.3% higher YoY (year-over-year). Year-to-date, at 64.17 million tons, steel production is up 4.5% compared to the same period last year.
Article continues below advertisement
Capacity utilization
The recent trend in the utilization data shows that the US Department of Commerce's objective of improving domestic steel capacity utilization has been achieving its goal. According to AISI (American Iron and Steel Institute) data, as of October 23, the capacity utilization of US steel mills had increased to 77.7% compared to 74.3% in the same period last year.
For the week that ended on October 27, this utilization hit 81.0% compared to just 73.2% in the same week a year earlier. This is an important milestone. With import substitutions due to import duties, capacity utilization seems to be increasing in the United States, which is positive for US steel stocks.
US production outlook is strong
The fourth quarter is usually a weak period for US steel shipments. These companies' productions are expected to be strong.
Cleveland-Cliffs also expects strong customer pellet sales. In its third-quarter results, it maintained US sales volume guidance of 21.0 million long tons, implying 6.94 million tons of shipments during the fourth quarter. CLF's CFO, Tim Flanagan, reiterated that shipments should pick up in the fourth quarter as mills stock up ahead of the winter months.
Most of Cliffs' US peers are also benefiting from tariffs and higher steel production. Nucor (NUE) and Steel Dynamics (STLD) are running their plants near full capacity, while U.S. Steel Corporation (X) has restarted two blast furnaces at its Granite City, Illinois, facility.