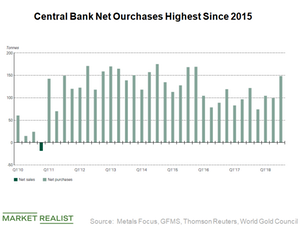 Central Banks Buy Most Gold in Three Years
By Anuradha Garg

Nov. 16 2018, Updated 10:31 a.m. ET
Central banks are on a gold-buying spree
According to the World Gold Council (or WGC), central banks' gold (SGOL) buying has hit the highest level in almost three years for the quarter ended September 2018. Banks bought almost 148 metric tons of gold during the quarter, implying growth of 22% YoY.
Central banks have been net buyers of gold since the beginning of the financial crisis of 2008. Recently, their gold (GLD) buying appetite is only getting bigger.
Article continues below advertisement
Russia, Turkey, and Kazakhstan are leading the pack
As usual, the central banks of Russia (RSX), Turkey, and Kazakhstan have been leading the pack. Russia purchased the most gold on record during the third quarter, amounting to 92.2 tons. With this, its total reserves went over 2,000 tons for the first time. Russia is in the process of de-dollarization by selling US Treasuries (TLT) and buying gold instead.
Apart from the usual suspects, there were some unconventional buyers in the market as well. The Reserve Bank of India (INDA) increased its reserves by 13.7 tons, which brought India's reserves to 21.8 tons. While usually European countries (HEDJ) have been sellers of gold rather than buyers, some European central banks also joined the buying bandwagon in Q3 2018. Poland bought gold every month in the third quarter, boosting its reserves to 116.7 tons. WGC also reported that Hungary reported in early October that it has increased its gold (IAU) reserves tenfold to enhance the long-term stability of its reserve portfolio. The bank cited gold's lack of counterparty risk or credit risk as its key benefits.
Central bankers move to diversify
Most market participants believe that the move towards gold is due to the central bankers' intent to diversify away from the US dollar (UUP). Russia's gold buying activity is certainly a case in point. More and more countries want to reduce their dependence on the US dollar and back up their debt with gold instead.
Central banks' continuous increase in gold reserves seems to be a good omen for gold prices. Going forward, countries are expected to keep adding to their gold reserves. What's interesting is that these two countries' gold reserves as a proportion of their total reserves are still far below reserves of developed countries such as the United States (SPY), France, and Italy.
While central bank gold buying has been strong lately, let's see how the physical gold buying for gold is coming along.