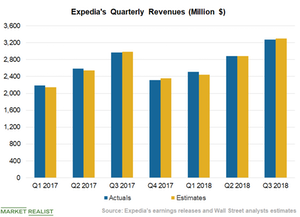 Breaking Down Expedia's Q3 2018 Revenue
Revenue by segment
Expedia's (EXPE) revenue rose 10.5% YoY (year-over-year) to $3.28 billion in the third quarter. Its revenue is divided into four segments: Core OTA, Egencia, HomeAway, and Trivago.
Core OTA contributed 75% of the company's revenue in the quarter, Egencia contributed 4%, HomeAway contributed 12%, and Trivago contributed 9%.
The company's Core OTA segment's revenue rose 9% YoY to $2.53 billion. It registered a whopping 10% increase in gross booking, which reached $20.2 billion in the third quarter. Egencia's revenue rose 10% to $139 million mainly driven by enhanced product offerings. Bookings in the segment increased 14% YoY to $1.9 billion.
Article continues below advertisement
The HomeAway segment's revenue surged 35% to $410 million. Its gross bookings grew 25% to $2.5 billion, with online bookable listings reaching 1.8 million in the third quarter. The division registered a robust 28% rise in stayed property nights. The Trivago (TRVG) segment continued its weak performance, with its revenue falling 13% YoY to $295 million.
Revenue by channel
The merchant business contributed 51% of Expedia's total revenue, the agency business contributed 27%, and the advertising business contributed 9%. The remaining 13% came from HomeAway. Revenues from the merchant, agency, and advertising businesses rose 8.3%, 9.1%, and 1%, respectively.
Article continues below advertisement
Revenue by product
Lodging still contributed the largest share at 72% of EXPE's revenue in the third quarter. Air travel contributed 6%, media and advertising contributed 9%, and the remaining 13% came from other revenues. Lodging revenue rose 12% YoY driven by a 13% rise in room nights stayed and partially offset by a 1% fall in revenue per room night. The company's air travel business revenue rose 11% YoY driven by 4% growth in air ticket volumes and a 6% rise in revenue per ticket.
Revenue by geography
International revenue rose 7% YoY to $1.48 billion driven by a 16% increase in room nights stayed. Domestic revenue rose 14% YoY to $1.79 billion driven by a 9% increase in room nights. International sales formed 45% of Expedia's revenue, and the remaining 55% came from domestic revenue.
Investors can gain exposure to Expedia by investing in the First Trust Dow Jones Internet ETF (FDN), which invests 2.6% of its holdings in Expedia. It also holds 2.3% in TripAdvisor (TRIP) but has no holdings in Booking Holdings (BKNG) or Ctrip.com International (CTRP).