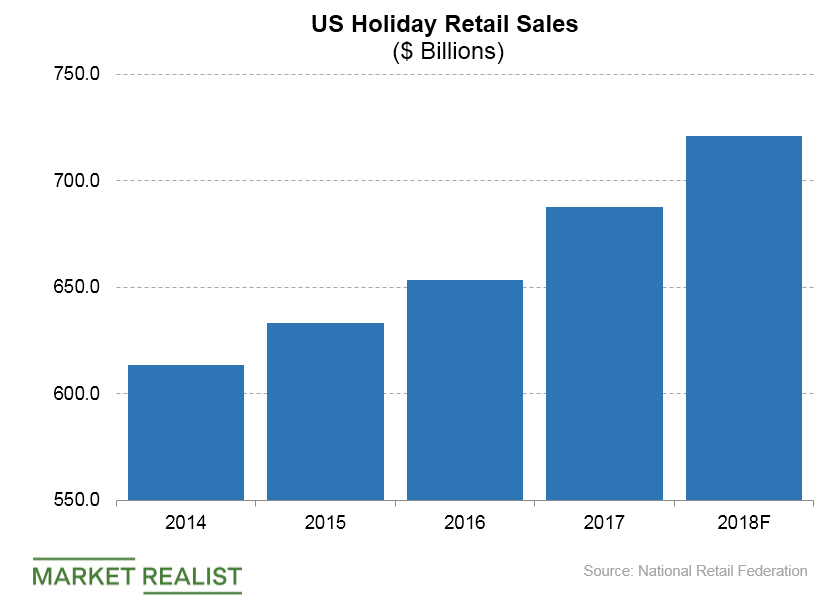 Behind Amazon's Holiday Shipping Fee Waiver
Amazon lifts minimum purchase requirement
Amazon (AMZN) is offering free shipping for all its retail customers in the United States this holiday season. The move is a first for the company.
Amazon Prime members who pay a $199 annual fee already enjoy free shipping on millions of items bought from Amazon's marketplace, but regular customers must spend at least $25 on Amazon before they can qualify for free shipping. It's this minimum purchase requirement that Amazon is lifting by extending free shipping to every customer in the United States during the holidays. The move shows that Amazon is giving its regular customers a taste of Prime this holiday season, a strategy that could help it draw more customers to the program.
Article continues below advertisement
Countering competitors' strategies
Lifting shipping costs for customers could help Amazon boost sales this holiday season. Amazon's offering free shipping could see it diminish the competitive advantages of some of its retail rivals in the period. Target (TGT), for instance, has a free two-day shipping service available to all its customers from November 1 to December 22. Walmart (WMT) also offers free shipping on orders of at least $35.
Holiday boom predicted
At the end of the day, Amazon hopes that waiving shipping costs for its customers will allow it to better capitalize on the holiday retail boom. The National Retail Federation's estimates show that 2018 holiday retail sales in the United States will increase by as much as 4.8% from a year earlier, reaching up to $720.9 billion.
The period from October through December is typically Amazon's largest quarter. Its revenue for this period last year increased 38.2% YoY (year-over-year) to $60.5 billion, accounting for 34% of its top line for the entire year. eBay (EBAY) and JD.com (JD) grew their revenues in the last holiday quarter by 6.0% and 31.2% YoY, respectively.