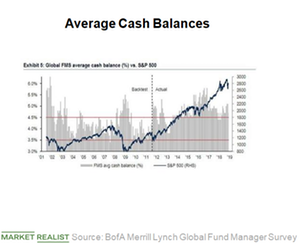 Bank of America's Suggestions for Investors in a Market Decline
Equities peaking
In a note published last week, Bank of America Merrill Lynch equity and quantitative strategist Savita Subramanian said, "We believe the peak in equities is likely before the end of 2019." She expects equities to slow down next year as credit conditions tighten and earnings growth slows. She expects the S&P 500 (SPY) to reach 3,000 before the end of this year, and to fall only 3% in 2019.
As the Fed keeps tightening monetary conditions, equities (QQQ) (IVV), which are now accustomed to easy money, will find themselves in a difficult situation. Increasing interest rates impact companies. Moreover, earnings growth deceleration is now very evident, which is worrying market participants. This year's higher comparables could be tough for companies to beat, especially given the fading benefits of tax reform.
Article continues below advertisement
Inverted yield curve
Bank of America's rates team has also forecast an inverted yield curve in 2019. A yield curve shows the yields of Treasury securities that are maturing at different times. For example, two-year securities' (SHY) yields are usually lower than ten-year securities' (IEF) (TLT) yields. The yield curve mainly reflects bond market investors' expectations of the Fed's actions and future economic conditions (SPY) (IVV). The current shape of the curve implies that the bond market expects a weaker outlook for 2019 and lower inflation.
Go for cash
The yield curve's inversion and homebuilder (XHB) metrics peaking are Bank of America's main arguments for the coming slowdown. Subramanian expects volatility to increase and more "bear market signposts" to be triggered. Currently, 58% of these signals have been triggered, whereas all 19 signposts were triggered in October 2007.
As growth slows down in the equity space, Subramanian recommends investors turn to cash. She notes that yields for cash are higher today than for 60% of S&P 500 companies. She also suggests buying healthcare (XLV), technology (XLK) and financial (XLF) stocks.
As shown in the chart above, fund managers' cash balances fell to 4.7% from 5.1% last month. This decline mainly implies that they bought into the October sell-off. The main beneficiaries of this buying seem to be REITs, US equities (IVV), emerging market equities (EEM), and healthcare stocks, which saw the most positive sequential change in global fund manager positioning. In the next part, we'll discuss Goldman Sachs's views on growth in the US economy and equity markets.