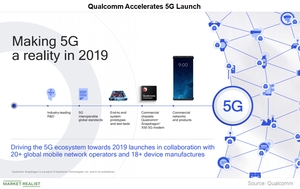 Assessing Qualcomm's First Priority in 2019
Qualcomm's first priority
On Qualcomm's (QCOM) fiscal 2018 fourth-quarter earnings call, CEO Steven Mollenkopf, stated that the company's first priority for fiscal 2019 would be the transition to 5G (fifth-generation) technology.
Mollenkopf believes that the 5G ecosystem is far bigger than 3G (third-generation) or 4G (fourth-generation) technology because 5G will go beyond faster network technology to facilitate a connected world in which all industries—from automotive to manufacturing to healthcare—will use 5G-enabled services.
According to a study commissioned by Qualcomm, 5G-enabled services will create an economic opportunity of up to $12.3 trillion from various industries by 2035.
Qualcomm has been working for several years to become a leader in the 5G space by introducing the technology first and driving its adoption. Intel (INTC) is following fast in the 5G space but is unlikely to beat Qualcomm, as the latter has accelerated its 5G launch by one year.
Article continues below advertisement
Role of Qualcomm in the 5G launch
Qualcomm expects the first mobile 5G network launches to begin in the second quarter of 2019. Qualcomm will supply its 5G and X50 modems to over 18 OEMs (original equipment manufacturer) across the world to help them launch their 5G handsets in 2019.
5G commercial launches are expected to happen simultaneously across North America, Europe, South Korea, Japan, China, and Australia. Qualcomm is believed to be the technology partner in almost all of these launches, as its technologies facilitate the launch of sub-6 GHz (gigahertz), millimeter wave, standalone, and non-standalone 5G technology.
Mollenkopf stated that 5G technology is far more complex than 4G in terms of spectrum, network dark architecture, RFFE (radio frequency front-end), device form factors, power consumption, and application processors. This complexity works as a barrier to entry and enables Qualcomm to increase the adoption of its technology.
Qualcomm's president, Cristiano Amon, stated that 5G technology presents a dual opportunity, firstly in terms of more content per device and secondly in terms of RFFE designs.
Next, we'll look at Qualcomm's second priority: to resolve its dispute with Apple.