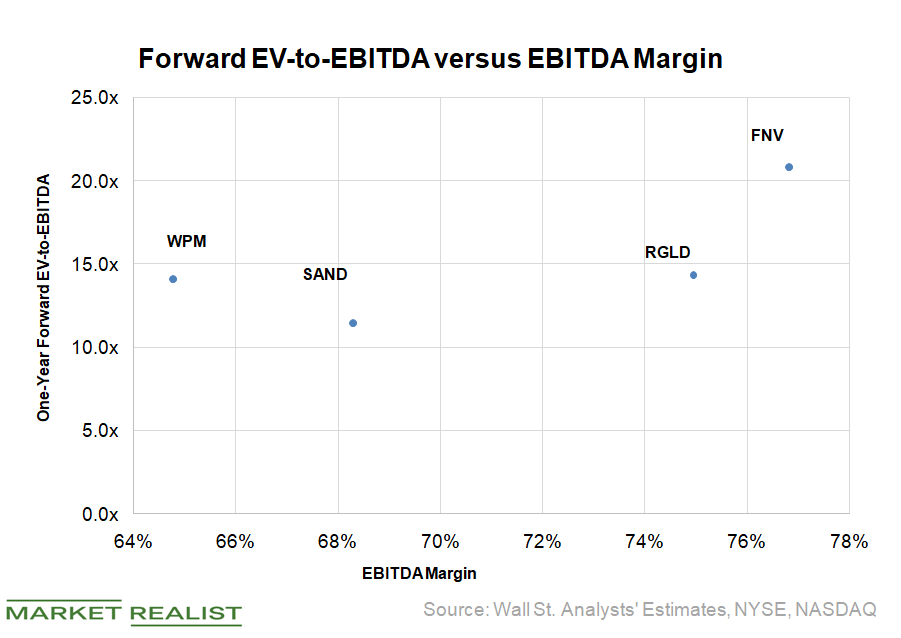 Are Royalty and Streaming Stocks a Safe Bet in 2018 and Beyond?
Royalty and streaming companies
Royalty and streaming mining companies' (GOAU) (SIL) multiples are usually higher than those of their mining peers, mainly due to their distinct business models and somewhat fixed income streams.
These miners make up-front payments for production rights to mines, which could be why they've seen higher valuation multiples than miners in other categories.
Article continues below advertisement
FNV has the highest multiple
Among the four major streaming companies we'll discuss in this article, Franco-Nevada (FNV) has the highest forward EV-to-EBITDA (enterprise value-to-EBITDA) multiple of 20.9x. This multiple implies a premium of 37% to its peers. The company has a superior growth profile and higher diversification. It has utilized the energy downturn to invest in oil and gas royalties, which has been working out quite well. Its mines are also geographically more diversified than those of its peers. Its strong balance sheet is another plus and supports its superior multiple.
WPM versus RGLD
Wheaton Precious Metals (WPM), which was previously known as Silver Wheaton (SLW), has a multiple of 14.1x. This multiple is similar to Royal Gold's (RGLD) multiple of 14.4x. WPM's discount to Franco-Nevada is primarily due to WPM's lower production growth profile and lower diversification. It's trying to diversify away from silver into gold. It's also recently started adding palladium and cobalt to the mix.
Royal Gold's future earnings growth potential seems to be stronger than WPM's earnings growth potential. RGLD's streams include three new or expanding assets, which are driving analysts' estimates for its revenue and earnings. It has significantly diversified in the past several years. Another accretive acquisition could provide a further catalyst for the stock going forward.
Sandstorm Gold (SAND) is a smaller company than its peers. It has a forward multiple of 11.4x, reflecting a fall of 35.0% year-to-date. While the company offers high leverage to gold prices and is financially strong, its asset concentration risk could discourage some investors.