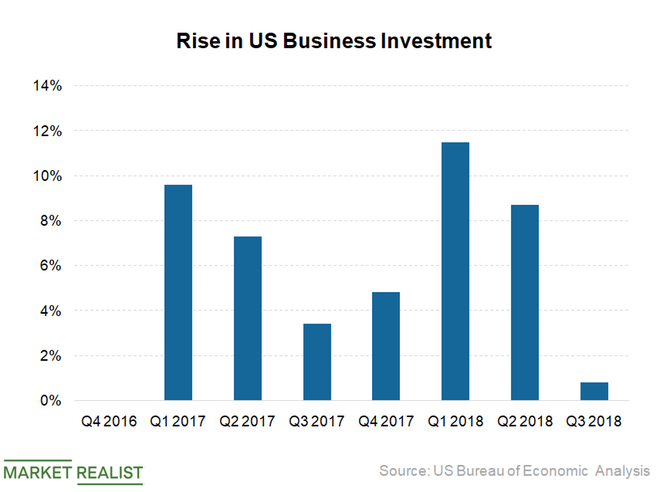 Are Indicators Signaling a Downturn in US Economic Growth?
Global growth has peaked
The OECD (Organisation for Economic Co-operation and Development) has said that global economic growth has peaked. It lowered its growth forecast for global GDP (gross domestic product) to 3.5% for 2019 from 3.7%. It said that trade tensions have already erased 0.1–0.2 percentage points from the global GDP this year, and if the United States hikes tariffs on Chinese products to 25%, economic growth could fall to ~3% in 2020 from the current estimate of 3.5%.
Article continues below advertisement
US economic growth peaking?
The US economy (SPY) (VTI) grew by an annualized rate of 3.5% in the third quarter, and the economy is set to grow by 3.0% this year. Whereas consumer spending has remained strong and the labor market has remained firm, that may be as good as it gets for the US economy at this time.
There are many headwinds facing the US economy, including monetary policy tightening and trade tensions with China (FXI). These factors are expected to weigh significantly on growth in 2019.
Leading indicators signaling a slowdown
Housing starts have typically been a very good leading indicator for the US economy. Increased housing demand usually indicates consumer confidence in the economy's future. Moreover, increased housing demand leads to ripple effects throughout the economy. Residential investments (ITB) slowed for a third straight quarter, and while US housing starts rose in October, the underlying trend has been weak. Higher interest rates (TLT) and higher prices are eating into the affordability of housing, impacting its demand.
Another important leading indicator, business investment, is also slowing down. In the third quarter, business spending declined to just 0.8%, its slowest pace since late 2016. This data is even more disappointing given the fact that investments should have risen following the current administration's tax cuts.
As investors are worried about the economy's future, defensive sectors such as utilities (XLU) and precious metals (GLD) could attract bids. Along with economic growth peaking, US earnings deceleration has spooked investors, which we'll discuss next.