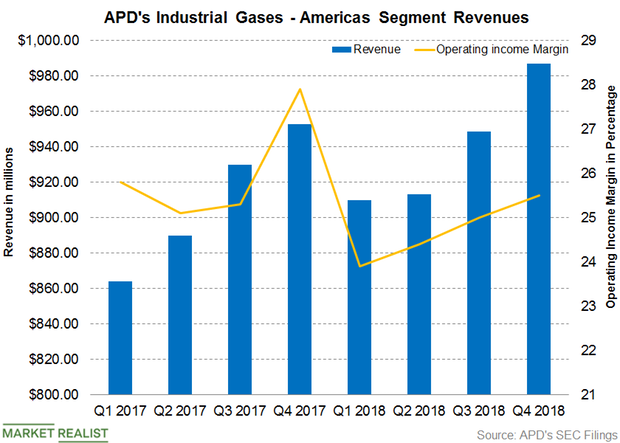 APD's Industrial Gases–Americas Segment's Margins Fell
Industrial Gases–Americas segment
Air Products and Chemicals' (APD) Industrial Gases–Americas segment was the company's largest revenue contributor in the fourth quarter. The segment accounted for 42.9% of the company's overall revenues compared to 43.3% in the third quarter of 2017—a decline of 0.4 percentage points.
The Industrial Gases–Americas segment's revenues continued to increase on a sequential basis for the third consecutive quarter. The segment reported revenues of $987.1 million—an increase of 3.6% compared to the third quarter of 2017. The segment's higher revenues were mainly driven by higher demand for hydrogen and other merchant gases. Due to the higher demand, the segment's volumes increased 4%. A favorable higher price realization increased the segment's revenues 1%, while the unfavorable foreign currency had a negative impact on the segment's revenues.
Article continues below advertisement
Operating income and margins
In the fourth quarter, Air Products and Chemicals' Industrial Gases–Americas segment reported an operating income of $251.3 million, which implies a decline of ~5.1% YoY. In the third quarter of 2017, the segment's operating income was $264.70 million. The continued increase in the input costs resulted in the decline in the segment's operating income, which put pressure on the margins. Increased revenues and the reduced operating income caused the segment's operating income margin to fall by 230 basis points to 25.5%—compared to 27.8% in the fourth quarter of 2017.
Outlook
The segment's revenues are expected to be driven by acquisitions, higher volumes, and higher prices. The backlog execution is also expected to improve the revenues. However, unfavorable foreign currency could be a challenge. The margins could continue to be under pressure due to increased input costs.
Investors can gain broad-based exposure to Air Products and Chemicals through the Guggenheim S&P 500 Equal Weight Materials ETF (RTM), which holds 4.3% of its portfolio in the company. RTM's top holdings include International Flavors and Fragrances (IFF), Albemarle (ALB), and PPG Industries (PPG) with weights of 5.0%, 5.0%, and 4.5%, respectively, on November 8.