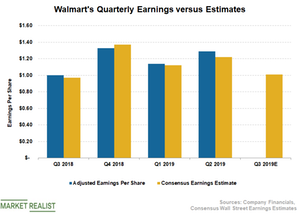 Analysts' Estimate for Walmart's Q3 2019
Sales estimate
Analysts expect Walmart (WMT) to report net sales of $125.4 billion, up 1.8% YoY (year-over-year), in the third quarter of fiscal 2019. Walmart's top line is expected to benefit from improved sales across all its business segments, primarily its US and international businesses.
Walmart's value pricing, expanded digital offerings, fulfillment options, focus on merchandising, and supply-chain reinvention are expected to drive its top line in the United States. Meanwhile, the company is expected to sustain its growth momentum in international markets led by Walmex (Mexico and Central America). Walmart's omni-channel offerings in the United Kingdom and Canada are expected to drive its top line. Meanwhile, China is expected to benefit from continued improvements in the company's underlying business and the expansion of its one-hour delivery services.
However, the company's discontinuation of tobacco sales in certain stores, its 63 Sam's Club store closures, and the deconsolidation of its Brazil operations are likely to remain a drag.
Analysts expect rival Target (TGT) to outperform Walmart in terms of sales growth during the third quarter. Target's digital initiatives are expected to drive its sales higher.
Article continues below advertisement
What to expect from WMT's bottom line
Analysts expect Walmart to report adjusted EPS of $1.01, up 1.0% YoY. The company's expected growth rate reflects a steep deceleration compared to the first half of fiscal 2019. In the first two quarters of fiscal 2019, Walmart's adjusted earnings jumped 14.0% and 19.4%, respectively.
Investments in price, higher digital fulfillment costs, and dilution from its Flipkart acquisition are expected to take a toll on Walmart's bottom line growth.
In comparison, analysts expect Target to report double-digit EPS growth during the third quarter. Meanwhile, Costco's (COST) bottom line is also expected to grow at a healthy rate despite tough YoY comparisons.