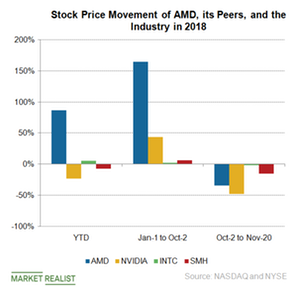 AMD: The Best-Performing Semiconductor Stock of 2018
AMD—the most popular semi stock of 2018
The semiconductor industry was hit by the October sell-off after two years of strong growth. Many investors cashed out before the October sell-off. Among the top gainers was Advanced Micro Devices (AMD), which rose 164% between January 2 and October 2 before falling 34% between October 2 and November 20. Despite the October crash, AMD stock rose 86.9% year-to-date.
AMD is the most traded and most volatile semiconductor stock of 2018. Its average three-month volume of 129.6 million is way above its rivals NVIDIA's (NVDA) volume of 13.5 million and Intel's (INTC) volume of 27.6 million. AMD is also the most volatile, with a beta of 5.05 versus Intel and NVIDIA's betas of 0.80 and 2.74, respectively. Beta measures volatility. The market has a beta of one and a beta above one reflects high volatility.
Article continues below advertisement
About AMD 
AMD is uniquely positioned in the chip industry, as it's the only company that supplies both CPUs and GPUs. It operates in these two duopoly markets where its competitors Intel and NVIDIA own more than 70% market shares. Over the last few years, AMD has been operating with losses, and it only turned profitable in 2018.
AMD's growth drivers
For a company like AMD, which was at the bottom, the growth strategy is to gain market share by offering competitive products. The stock took flight in 2018, when it announced its 7nm (nanometer) products that would overtake Intel's products in terms of process technology. This would accelerate market share gains for AMD in the server CPU market, where Intel has over 99% share. AMD is suffering from weakness in the GPU market, which could affect its near-term earnings. This weakness could be offset by server CPU demand in 2019.
Investors are betting on AMD's double-digit year-over-year revenue growth. The stock is currently valued at 2.97x its last-12-month sales and has a return on equity of 43.3%. Investors who purchased this stock at the start of the year should hold on to it. It could grow in the first half of 2019, when its server CPUs starts contributing to earnings.