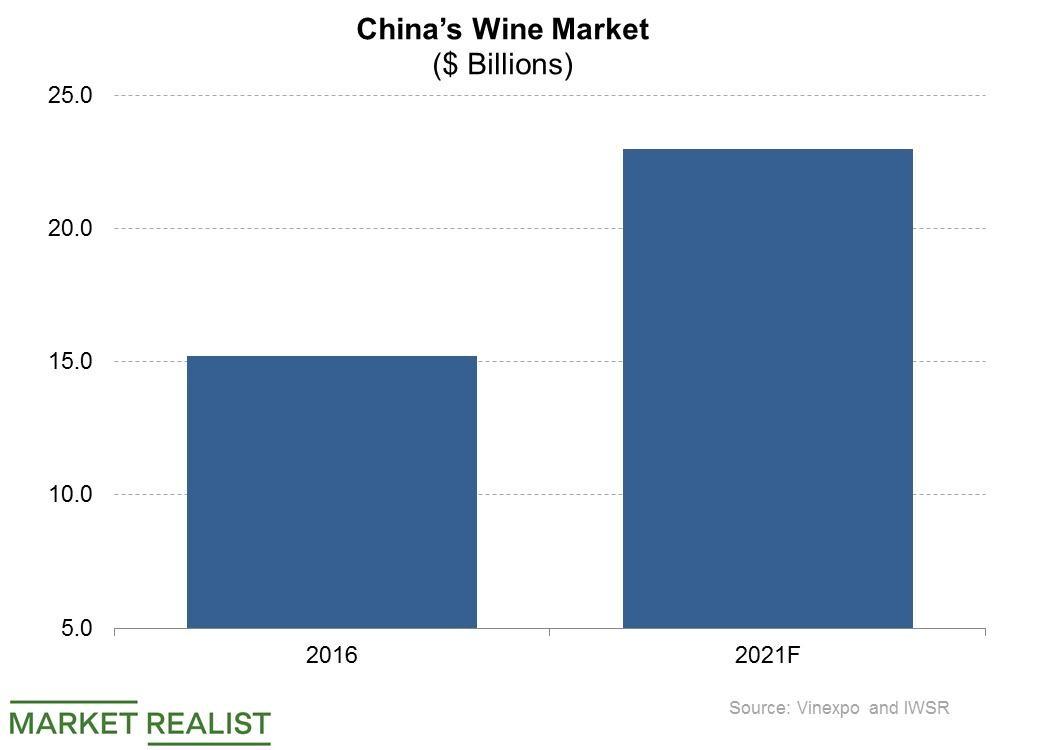 Alibaba Bets Nearly $300 Million on This Chinese Wine Retailer
The wine business
Alibaba (BABA) has quietly made an investment of nearly $300 million for a stake in a Chinese online wine retailer whose sales are poised to double.
Alibaba spent $288.6 billion to purchase 39.3 million shares in 1919.cn, a wine company disclosed in regulatory filings cited by Caixin. The investment gives Alibaba a 30% equity stake in 1919.cn along with exposure to a business with strong growth prospects.
Revenue at 1919.cn jumped 16.2% to ~$500 million in 2017, and the company says it's on track to generate revenue of ~$1.0 billion in 2019. The company imports its wines from countries such as France, Australia, and the United States. It also sources supplies from domestic wineries.
Article continues below advertisement
A $23 billion wine market
China is the world's second-largest wine market after the United States in terms of both consumption volume and consumer spending. China's wine market was valued at $15.2 billion in 2016 and is expected to grow to $23 billion by the end of 2021, according to Vinexpo and IWSR.
Alibaba's rival JD.com (JD) is also vying for revenue in China's lucrative wine market. JD also sources its wines from overseas supplies as well as from Chinese wineries. It sold 40 million bottles of wine in China last year.
Global wine retailers
Globally, Walmart (WMT), Amazon (AMZN), and Costco (COST) are among the biggest wine retailers, with Walmart launching a new line of private-label wines under the Winemakers Selection brand earlier this year. Amazon shut down its wine marketplace last year, but it remains a leading wine retailer. Costco is also big in the wine business, with ~$2.0 billion in annual wine sales through its warehouses.