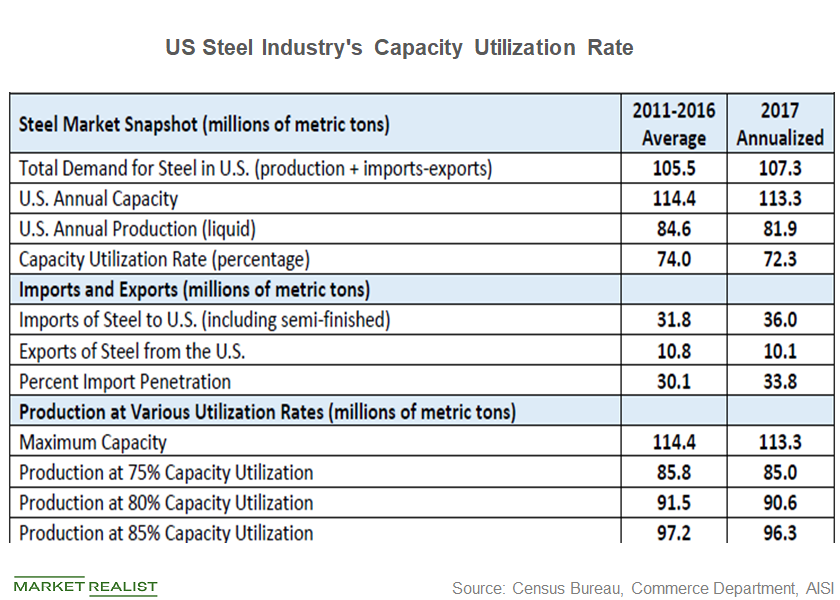 After Trump's Tariffs, US Steel Industry Has a Problem of Plenty
Trump's tariffs
According to data from the American Iron and Steel Institute, US steel production rose 11.6% year-over-year in the week that ended on November 24.
On a year-to-date basis, US steel production has risen 5.6% compared to the same period in 2017. The steel industry's capacity utilization rates have also improved and are over 80%, something the US Commerce Department was targeting with the Section 232 tariffs.
Article continues below advertisement
Meanwhile, as US steel prices have surged following the tariffs, US steel companies' earnings and operating cash flows have also improved. As for cash, its been a problem of plenty for steel stocks. We've seen stock buybacks from several companies, including U.S. Steel Corporation (X), Cleveland-Cliffs (CLF), and Nucor (NUE).
Investments
Along with share buybacks, steel companies are also investing in organic capacity. Steel Dynamics has announced plans to add a plant with annual capacity of 3.0 million tons. Nucor is also investing in new capacity, while some foreign steel companies are also looking at expanding their US footprints to capitalize on higher margins.
Having said that, while more US steel production capacity looks encouraging, it would also add to the problem plaguing the global steel industry: overcapacity. Nonetheless, minimills such as those Steel Dynamics operates have better withstood industry cycles than blast furnaces such as those operated by U.S. Steel and AK Steel (AKS).
In the next and final article, we'll look at some recent steel demand indicators (DIA).