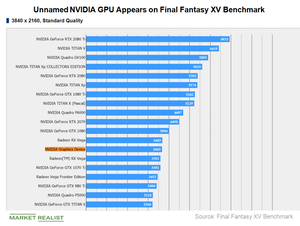 A Look at the Rumors surrounding NVIDIA's Upcoming GPUs
Rumors about NVIDIA's RTX 2080 Max-Q cards
NVIDIA's (NVDA) three Turing-based GeForce RTX GPUs (graphics processing unit) are now on the market, and some of them have already started seeing problems. In the meantime, rumors surrounding NVIDIA's upcoming GPUs have been rampant.
Citing unnamed sources, Wccftech recently stated that NVIDIA might launch its RTX GPU line-up for laptops in January 2019. While the company removed other information from its website, a Digital Trends article stated that NVIDIA's RTX Mobility line-up would comprise the RTX 2080, 2070, 2060 Ti, 2060, 2050 Ti, and 2050. Apart from the mobility version, Digital Trends stated that NVIDIA might also launch Max-Q designs for the RTX 2080 and 2070. Max-Q technology is designed for ultra-thin 15- and 17-inch laptops.
Article continues below advertisement
NVIDIA 2060
As per NVIDIA's strategy, it introduced its new Turing GPU architecture first for high-end customers. There has been no announcement about the mid- and low-range Turing GPUs. PCGamesN noted that a new GPU under the name "Nvidia Graphics Device" appeared in the Final Fantasy XV benchmark database. The rumored GPU is 8% faster than the GTX 1070 but 4% slower than the GTX 1070 Ti.
PCGamesN stated that the new GPU appears to be the GTX/RTX 2060, whose performance is close to that of the GTX 1070 TI. However, the website believes that NVIDIA might not offer ray-tracing RT Cores in the low-end version of the Turing GPU 2060, so it's named the rumored card the GTX/RTX.
Rumors of a GTX 1060 refresh
There are rumors from Hot Hardware that NVIDIA could launch a fresh GeForce GTX 1060 after rumors were floated on Fudzilla and TechRadar that Advanced Micro Devices (AMD) would be launching a 12 nm (nanometer) Polaris 30 GPU under the name Radeon RX 590.
It's believed that NVIDIA might launch the refreshed GTX 1060 to compete with AMD's rumored RTX 590. According to the rumors, NVIDIA's refreshed GPU will feature 8 GB (gigabyte) GDDR5X (graphics double data rate) memory from Micron (MU) compared to the original GTX 1060's 3 GB GDDR5 memory.
Next, we'll see how NVIDIA's RTX GPU's problems and its rumored upcoming GPUs are affecting its earnings.