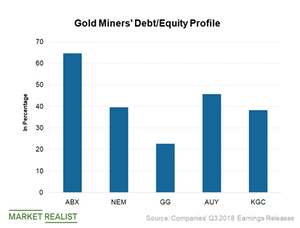 A Look at Gold Miners' Financial Leverages after Q3 2018
Leverage ratios
For a company, especially a miner, it's important to maintain an optimal DE (debt-to-equity) ratio to minimize risk and reduce the cost of capital. However, debt levels can create problems for companies, especially when the commodity markets aren't doing well.
Since high debt levels can strain a company's credit rating and growth decisions, it's important to look at its financial leverage.
Article continues below advertisement
Financial leverage
Barrick Gold (ABX) and Newmont Mining (NEM) have come a long way as far as their financial leverages are concerned. After making some wrong decisions to acquire assets at the peak of the cycle, they've improved their balance sheets significantly. A large part of the cleanup has been done through noncore asset sales, and the rest has been done through cash flows. However, compared to most other gold miners, these companies' debt levels are still high.
Barrick Gold has a high DE ratio of 64.5% compared to the following ratios of its peers:
A company's DE ratio shows the DE mix in its capital structure. Newmont Mining's debt ranking has fallen significantly.
Financial indebtedness
Usually, when precious metals prices are strong and rising, miners (GDX) take on more debt. When the downcycle begins, however, their debts begin hurting them.
Some of the above-mentioned miners made acquisition decisions funded mainly by debt at the peak of the mining cycle. The majority of these acquisitions were eventually written off due to poor economics and low precious metals prices (GLD) (SLV), leading to increased financial leverage for miners without a corresponding rise in production.
These miners have now paid off the majority of their debts. Newmont Mining, for example, has reduced its net debt by 83% since 2013. Barrick Gold has reduced its debt more than 50% in the last three years—from $13.4 billion at the end of 2014 to $6.4 billion at the end of 2017.
While the gold mining sector is in deleveraging mode, the same can't be said for the broader markets. The financial leverage of the S&P 500 Index (SPY) (IVV) has risen over the years.