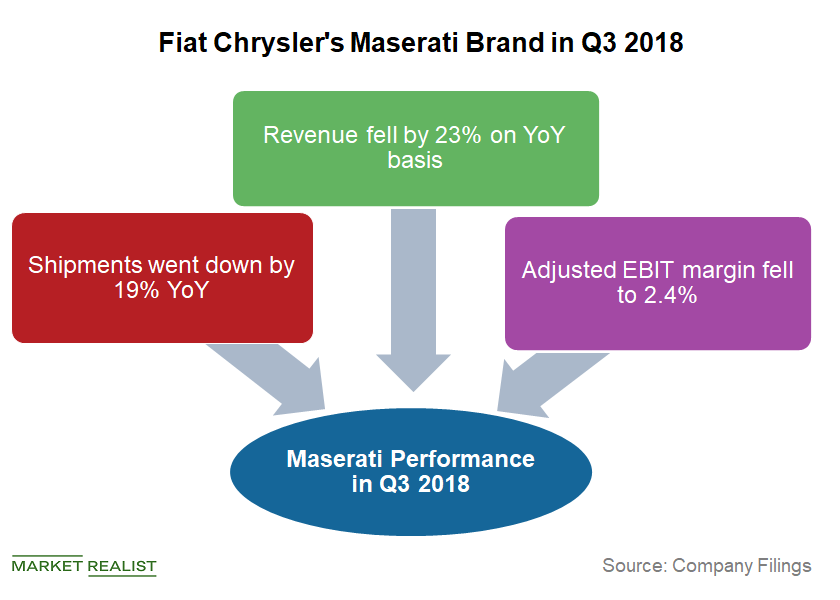 A Look at Fiat Chrysler's Dismal Maserati Performance in Q3 2018
Fiat Chrysler's luxury vehicles
Article continues below advertisement
Maserati's third-quarter revenue fell
In the third quarter, Fiat Chrysler shipped ~8,800 units of Maserati brand cars, down 19% from ~10,900 units in the third quarter of 2017. With this, the company's revenue in the luxury car brand fell ~23% YoY (year-over-year) to 631 million euros, or ~$714 million. This revenue fall was primarily driven by lower Maserati demand from China and Europe and a negative vehicle mix.
During its third-quarter earnings conference call, Fiat Chrysler's CFO, Richard Palmer, said that Maserati's "lower sales levels mean our days sales and inventory for dealer stock are up to around 120 days. And so production levels have been reduced commensurately and further actions will be taken in Q4 if necessary."
Talking about Maserati's performances in China and Europe, FCAU's CEO, Michael Manley, said, "The teams are intensely driven on aligning our inventory properly in these two markets which I expect will take the next two quarters to realize."
Automakers (XLY) such as General Motors (GM), Ford Motor Company (F), Fiat Chrysler, and Toyota Motor (TM) make higher profits from luxury vehicles than from mass-market vehicles. GM's Cadillac and Buick, Ford's Lincoln, and Toyota's Lexus are luxury car brands.
Maserati's profitability
In the third quarter, the Maserati segment's adjusted EBIT stood at just 15 million euros, or ~$17 million, a significant fall of 87% YoY. The company attributed this steep fall in Maserati's profits to lower sales, market mix, and increased research and development expenses.
With this, Maserati's adjusted EBIT margin contracted to 2.4% in the third quarter from 13.8% a year ago.
In the next article, we'll find out how FCAU's current debt position looks after its third-quarter results.