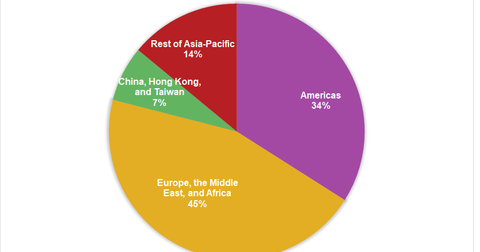 A Look at Ferrari's Q3 Performance in the Americas and Europe
By Jitendra Parashar

Updated
Ferrari's revenue in Q3 2018
In the previous part of this series, we looked at Ferrari's (RACE) higher third-quarter shipments to China, Taiwan, and Hong Kong. On the negative side, the company's third-quarter YoY shipment growth rate to China, Hong Kong, and Taiwan fell as compared to the first and second quarter of 2018. In 2017, the company's mainland China shipments rose, while its shipments to Hong Kong and Taiwan remained nearly flat. Now, let's move on by taking a look at Ferrari's third-quarter shipments to the Americas and Europe segment.
Article continues below advertisement
Q3 shipments to the Americas
In the third quarter, Ferrari's shipments to the Americas rose by ~5% YoY to 770 car units from 736 units in the third quarter of 2017. In the second quarter of 2018, the company's shipments to the Americas region went up by 7% YoY to 850 units. Ferrari's Americas market segment includes both North and South America. In 2017, Ferrari's shipments to the Americas region increased by 5% to 2,811 car units.
Interestingly, RACE's annual sales are still much lower as compared to other auto giants (VCR) like Toyota (TM), Ford (F), and General Motors (GM), which is primarily because of Ferrari's exclusivity and low volume policy, while GM, Ford, and TM primarily produce mass-market vehicles. In 2017, while mainstream automakers' global sales were in millions of vehicle units, Ferrari shipped only 8,398 units worldwide.
Q3 shipments to other markets
In the third quarter, Ferrari reported shipments of about 1,005 car units to the EMEA (Europe, the Middle East, and Africa) segment, up 11% YoY. In the previous quarter, the company also reported a 7% YoY rise in its EMEA market shipments to 1,073 units. Among all its key markets, Ferrari reported the strongest YoY shipment growth of 27% YoY in its rest of Asia-Pacific segment to 325 units.
Read on to the next part to know about Ferrari's third-quarter profit margin.