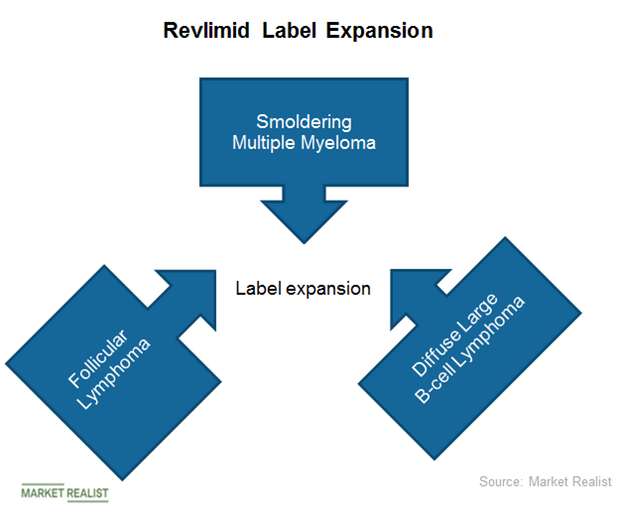 A Look at Celgene's Revlimid Label Expansion Initiatives in 2018
By Margaret Patrick

Nov. 29 2018, Updated 7:30 a.m. ET
Revlimid patent expiry
On December 22, 2015, Celgene (CELG) issued a press release announcing the settlement of patent litigation for Revlimid with Natco Pharma, Arrow International, and parent company Watson Laboratories, which was then a wholly owned subsidiary of Allegan (AGN). Currently, Watson Laboratories is a part of Teva Pharmaceuticals (TEVA).
According to the press release, although Revlimid's patents in the Orange Book extend until April 2027, the company will be allowed prior entry of generic versions of the drug. As per the press release, Natco will be allowed to sell a certain quantity of generic Revlimid starting in March 2022. However, starting January 31, 2026, Natco will be permitted to manufacture and commercialize unlimited quantities of generic Revlimid. According to Celgene's third-quarter earnings conference call, Celgene expects to offset a significant portion of the generic revenue erosion of Revlimid through the combined peak revenues of its five investigational assets, ozanimod, fedratinib, luspatercept, bb2121, and liso-cel.
Article continues below advertisement
Revlimid label expansion
On October 23, 2018, Celgene issued a press release announcing favorable results from open-label Phase 2/3 trial ECOG E3A06, which evaluated Revlimid in the smoldering multiple myeloma indication.
According to Healthline, "Smoldering multiple myeloma (or SMM) is an early precursor to a rare blood cancer known as multiple myeloma, which affects plasma cells."
According to Celgene's third-quarter earnings conference call, the company is also anticipating results from Phase 3 trials evaluating Revlimid-based triplet regimens in the front-line MM indication in 2018 and 2019.
The company is currently awaiting FDA approval for Revlimid in the follicular lymphoma indication. The company is also awaiting results from its ROBUST trial evaluating Revlimid and chemotherapy combination regimen in the diffuse large B-cell lymphoma (or DLBCL) indication.
In the next article, we'll discuss growth trends of Pomalyst in greater detail.