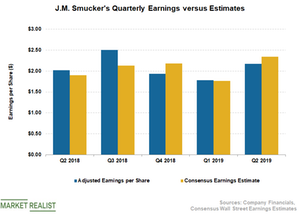 A Closer Look at J.M. Smucker's Q2 2019 Results
Lower pricing took a toll on sales growth
The J.M. Smucker Company (SJM) reported net sales of $2.0 billion in the second quarter of fiscal 2019, which fell short of analysts' expectation of $2.1 billion but rose 5.1% YoY (year-over-year).
The company's top line benefited from incremental sales related to its Ainsworth acquisition, which contributed 6% to its top line growth rate. Meanwhile, its volumes improved 1%. However, lower net price realizations across all its business segments adversely impacted the company's top line growth rate. Its net pricing fell 2% in the reported quarter.
Sales in the company's US Retail Coffee segment fell 1%, primarily due to lower net price realizations. However, increased volumes in its 1850, Café Bustelo, and Dunkin' Donuts brands supported its top line.
Article continues below advertisement
The company's US Retail Consumer Foods segment's net sales fell 12%, primarily due to its divestiture of its US baking business. However, excluding the impact of divestitures, its net sales rose 1% driven by growth in the Smucker's, Jif, Uncrustables, and Crisco brands. However, lower pricing for peanut butter and oils remained a drag.
The US Retail Pet Foods segment's net sales rose 32%, primarily driven by the Ainsworth acquisition. Excluding the Ainsworth acquisition, its net sales fell 1%. The International and Away From Home segment's net sales fell 2%, reflecting lower pricing and adverse currency rates.
Bottom line fell short of the estimate
SJM reported adjusted EPS of $2.17 during the quarter, a rise of 7.4% YoY but short of analysts' consensus estimate of $2.34. The company's lower pricing negatively affected its bottom line growth. However, cost savings supported its EPS.
SJM's management lowered its fiscal 2019 adjusted earnings outlook to $8.00–$8.20. Earlier, it had expected its earnings to be in the range of $8.40–$8.65.