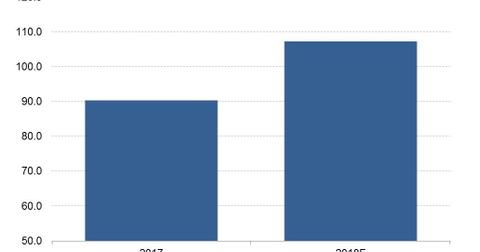 Will Twitter Join Google in Relaxing Crypto Ad Restrictions?
By Neha Gupta

Updated
Google, Facebook relax restrictions
Twitter (TWTR) remains the major digital advertising platform that hasn't relaxed its cryptocurrency ad restrictions since announcing the measures in March.
Facebook (FB) and Google (GOOGL), which moved ahead of Twitter to restrict the advertising of crypto products on their platforms as a measure to protect their users against potential scams, have since relaxed those restrictions, allowing them to start accepting payments for crypto-related ads appearing on their platforms.
Article continues below advertisement
Facebook's relaxed crypto product ad restrictions began rolling out in June, while Google's revised crypto product ad restrictions were planned to go into effect early this month. Both Facebook and Google came up with programs to preapprove advertisers before they could be allowed to run these ads on their platforms. Snap (SNAP) has also restricted crypto-related ads on Snapchat.
Preapproving crypto product advertisers
Facebook and Google have shown that it's possible to balance user protection and business in terms of carrying crypto-related ads, providing a signal that Twitter may want to follow. The restriction on crypto-related ads by American Internet companies followed months of volatility in Bitcoin's price.
Twitter is preparing to release its third-quarter results on October 25 and to host a conference call to discuss the results on the same day. Investors will likely be paying attention to what the company's management has to say about the future of crypto product ad restrictions.
Potential crypto ad markets
The United States and Japan are a couple of the markets in which regulated companies are undertaking crypto-related business. These companies include Square (SQ), which lets users of its Square Cash App buy and sell Bitcoin for profit.
Digital ad spending in the United States is on track to hit $107.3 billion in 2018, according to eMarketer.