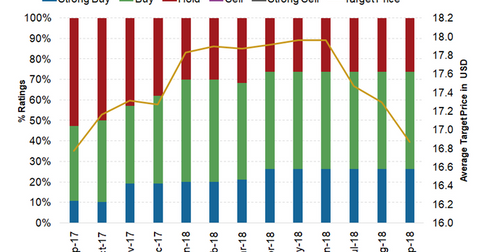 Why Some Gold Stocks Look Promising
By VanEck

Updated
Article continues below advertisement
Gold Companies Fundamentals Remain Strong and Able to Weather Current Prices
Most gold companies have ample flexibility to weather a slump in gold prices. Debt has been reduced to levels that are manageable at lower gold prices and many companies have no net debt. The average all-in mining cost for the majors and mid-tiers is around $835 per ounce, while our portfolio is $20 below the average cost. Mining costs exclude exploration, capital projects, and other administrative costs. When accounting for all the money companies are spending, using a gold price of $1,200, BofA Merrill Lynch Research estimates aggregate industry free cash flow of $2 billion in 2018, rising to $7.3 billion in 2020. While we expect to see higher prices in the fall, we always consider industry fundamentals should prices decline further than expected. At $1,100 per ounce, free cash flow goes to $0 in 2018 and trends to $2.7 billion in 2020. At the $1,100 level we would expect companies to trim discretionary expenses and postpone new mine development. Approximately 10% of global production has all-in mining costs above $1,100 per ounce; therefore, there could be a few high-cost mines that consider curtailed production or closure.
Market Realist
In recent years, gold miners (GDX) have cut costs, reduced debt, and improved productivity. Gold miners have managed to slash their all-in sustaining costs aggressively over the last five years. Their costs are still lower than current gold (OUNZ)(GLD) prices, which could lead to profits.
As we mentioned earlier, gold miners' valuations relative to gold are at their lowest in two years.
Gold miner stocks have seen a steep decline this year, but the tide could change soon.
Twenty analysts are currently tracking Goldcorp (GG) stock. About 70% think the stock is a "buy," 25% recommend a "hold," and only 5% recommend a "sell." The current target price of $16.90 implies a potential upside of 65% on its price as of September 28.