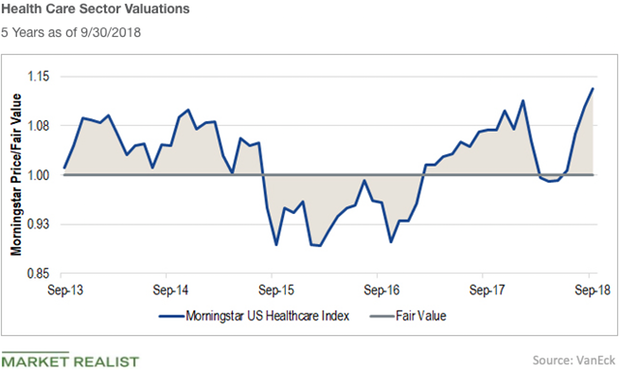 Why Morningstar Is Overweight on Healthcare
By VanEck

Oct. 29 2018, Published 12:58 p.m. ET
VanEck
Following the September index review, the U.S. Moat Index remained overweight health care stocks. Rather than being an indication of Morningstar's view of the sector as a whole, this reflects wide moat opportunities within the health care sector. The health care sector as a whole, as represented by the Morningstar US Healthcare Index, has fluctuated above and below fair value over the last five years, ending the period above fair value. However, looking at the individual stock level, several companies appear undervalued based on Morningstar's valuation research. For example, current U.S. Moat Index constituent and health care sector stock Medtronic has traded below Morningstar's fair value estimate since early 2017.
Article continues below advertisement
Morningstar's moat investing philosophy is all about investing in companies with sustainable competitive advantages and doing so at attractive prices relative to their fair value. This results in dynamic U.S. and international portfolios that repeatedly assess moat companies to identify mispricing in the market.
Market Realist
As the third graph shows, the Morningstar US Wide Moat Focus Index has over 30% exposure to the healthcare sector, while the S&P 500 Index has only 15% exposure to the sector. The former has less than a 15% weight in the tech sector. This positioning has actually been beneficial, as the healthcare segment has outperformed the broader markets and the tech sector in 2018.
The Morningstar US Wide Moat Index has the highest exposure of 2.87% to Pfizer (PFE). Pfizer has a wide range of patented drugs. The company has generated robust cash flows on account of these drugs. More importantly, unlike the smaller pharmaceutical companies, Pfizer has the financial muscle coupled with a strong research base to create new drugs. Pfizer is currently available at cheap valuations despite those strengths. It's trading at only 13.8x its next-12-month earnings.
Meanwhile, Medtronic (MDT), which according to Morningstar is undervalued, has a 2.61% weight in the US Moat Index.